If you've got a hankering for something chocolatey, try these just-sweet-enough cacao walnut muffins.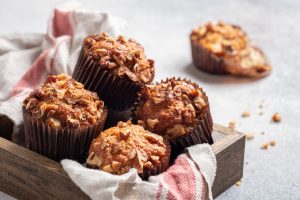 Satisfy that chocolate craving for these fluffy, grain-free muffins. Almond flour stands in for traditional flour, creating a moist and nutty muffin filled with fiber. With an antioxidant-rich cacao powder in the batter and cacao nibs sprinkled on top, they're a chocolate lover's dream without the guilt!
One of the best parts about making muffins from scratch is having complete control of the sugar content. Bakery muffins are often loaded with processed sugar and offer little health benefits. These chocolate muffins are just as indulgent while using pure ingredients like maple syrup and real cacao. They can be enjoyed for dessert, but are low enough in sugar to be a great grab-and-go breakfast with fiber, protein, and healthy fats to start your day.
Of course, you can't have nutty muffins without walnuts! Crunchy and satisfying, these super antioxidant-rich nuts help stave off cardiovascular disease and also promote a healthy gut environment by increasing good bacteria. (1)
Raw cacao nibs and cacao powder join forces in this recipe to create intense chocolate flavor. Plus, raw cacao adds a dose of powerful antioxidants that protect cells from free radical damage from pollution, sun damage, and pesticides. Cacao nibs are a great swap for chocolate chips in cookies, muffins, and brownies. (2)
More great ways to use cacao include:
Cacao Walnut Muffins
Prep time- 10
Cook time- 30 minutes
Wait time- 15 minutes
Total time- 55 minutes
Serves- 6
Tools:
Muffin tin
Paper muffin liners
2 mixing bowls
Ingredients
1½ cups blanched almond flour
1/4 cup Cacao Bliss or raw cacao powder
1/2 t baking powder
1/4 t sea salt
2 large pasture raised eggs
1/4 cup melted coconut oil
1/4 cup pure maple syrup
1/2 cup unsweetened almond milk
1/2 cup chopped raw walnuts + 2 T extra for topping
1/4 cup cacao nibs + 1 T extra for topping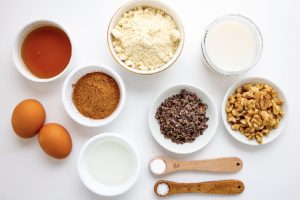 Directions
1. Preheat the oven to 350ºF and line 6 muffin tins with paper liners.
2. Combine almond flour, cacao powder, baking powder, and sea salt in a mixing bowl.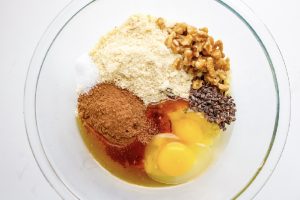 3. In a separate, larger bowl, stir together the eggs, coconut oil, maple syrup, and almond milk.
4. Gradually stir the almond flour mixture into the wet ingredients to form a moist batter. Fold in walnuts and cacao nibs.
5. Scoop the batter evenly among muffin tins and sprinkle additional walnuts and cacao nibs on top of each muffin. Transfer to the oven and bake for 25-30 minutes.
6. Let the muffins cool for 15 minutes before enjoying.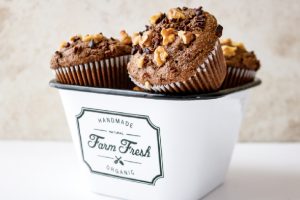 Special thanks to Jennafer Ashley over at PaleoHacks for sharing this delicious recipe with you!
You might also like:
Flourless Brownies with Ganache Topping
Yours in health and happiness,
Danette
P.S. Please share this with your friends who love muffins and love eating healthy. When's the last time you baked some yummy treats?