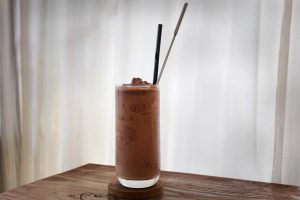 This rich and creamy chocolate coffee shake recipe is made with potent anti-inflammatory raw cacao. Drink up to reap the benefits of this tasty blend!
You probably already know that dark chocolate is good for you, but what you may not know is just how powerful this healthy bean truly is.
Cacao has even more antioxidants than blueberries or acai! It also packs a unique blend of compounds that work to boost health and help fight against heart disease and stroke. This lightly sweetened shake combines the health benefits of cacao with energy-boosting coffee for an icy drink that curbs even the most serious chocolate craving!
But it doesn't stop there; dark chocolate and cacao also:
Protect the nervous system against Parkinson's disease and Alzheimer's
Reduce inflammation
Decrease bad cholesterol (LDL)
Boost the immune system
Tip: Be sure to purchase dark chocolate with a cacao content of at least 80% for the highest level of antioxidants, and make sure the cacao powder is raw for the most nutrients.
Tweet
The secret to making this shake ultra-creamy without any dairy is using full-fat coconut cream. Coconut cream is the thick portion of coconut milk that rises to the top of the can when cold.
Canned coconut cream has all of the fat and none of the watery liquid like you'd typically see in canned coconut milk. This makes it terrific for turning into whipped cream, dairy-free ice cream or thick shakes just like this one.
There's also just a small bit of maple syrup in this recipe as an optional sweetener, which makes for a great option when you're trying to cut down on sugar.
To make this creamy coffee shake, simply combine all the ingredients in a blender and combine on high until thick and icy. Pour into a glass and drizzle with melted dark chocolate. Enjoy right away!
Cacao Coffee Shake
Prep time- 5 minutes
Cook time- 0 minutes
Total time- 5 minutes
Serves- 1
Tools
Blender
16 oz glass
Ingredients
1 oz strong organic coffee, chilled
1 cup coconut cream
1 T raw cacao powder or Cacao Bliss
1 T pure maple syrup (optional)
2 cups ice
1 T 80% cacao dark chocolate chips, melted (optional)
Directions
Combine all ingredients except for dark chocolate in a blender. Blend on high until thoroughly blended and icy.
Pour into a glass and drizzle with dark chocolate, if using. Enjoy!
I hope you enjoy this healthy chocolatey treat and will share this recipe with your friends! Speaking of friends, I would like to thank my friends at PaleoHacks for sharing this easy and delicious recipe. This article was written by Jennafer Ashley.
You might also like:
Creamy Cacao Dark Chocolate Pudding
Healthy Chocolate Peanut Butter Cups
Yours in health and happiness,
Danette
P.S. Please share this recipe with your coffee and chocolate loving friends and I love reading your comments below. Are you loving learning new and healthy ways to indulge in chocolate?