Crush your sugar craving with this luscious, dark chocolate pudding recipe.
This healthy pudding is made with only six wholesome ingredients, and is as easy as melting, mixing, and setting in the refrigerator!
Raw cacao powder and solid dark chocolate combine for double chocolatey goodness filled with antioxidants. To get their full health benefits, use dark chocolate made of at least 80 percent cacao.
Coconut oil gives this pudding its silky-smooth texture and helps the chocolate melt evenly, while coconut yogurt is used to bind everything together.
It makes this pudding incredibly creamy and it adds a healthy dose of probiotics to make your gut happy. For best results, make your own coconut yogurt or look for one without added sugar or artificial ingredients.
Finally, coconut sugar and vanilla marry everything together with a touch of sweetness!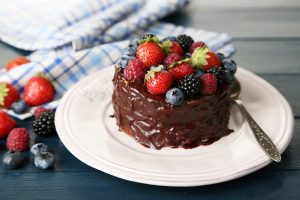 This recipe takes less than 20 minutes to make from prep to finish. All you have to do is melt the coconut oil with the chocolate and cacao. Next, stir in the remaining ingredients. Lastly, set in the refrigerator for about 10 minutes to set.
Then, serve with fresh berries or coconut whipped cream, grab a spoon, and dig in!
Creamy Cacao Dark Chocolate Pudding
Prep Time: 2 minutes
Cook Time: 5 minutes
Rest Time: 10 minutes
Total Time: 17 minutes
Yield: 2 servings (1/2 cup each)
Equipment:
Double boiler
Ingredients
½ cup unsweetened raw cacao powder or Cacao Bliss
1 T coconut oil
1 cup 85% dark chocolate
1 t vanilla extract
1 t coconut sugar
1 cup unsweetened coconut yogurt

How to Make ItMelt the cacao, coconut oil and chocolate together in a double boiler.
Stir to combine and turn off the heat.
Stir in the vanilla, coconut sugar and coconut yogurt, mixing until smooth.
Set in the refrigerator for 10 minutes, then serve with fresh berries!
Want even more chocolatey goodness? Check out this recipe for silky dark chocolate avocado truffles!
Special thanks to my friends at PaleoHacks for contributing this recipe written by: Megan Olson.
Yours in health and happiness,
Danette
P.S. Feel free to share this yummy and healthy recipe with your friends and I invite you to comment below. Do you love experimenting in your kitchen new healthy recipes?