There's a lot to be said about embracing your golden years, but the truth is that nobody loves being reminded of their age by wrinkles.
Our genes have a lot to say about our skin's structure but it's sun damage that causes most wrinkles. Smoking and pollution contribute too.
Still, there's plenty you can do to slow down the process.
There are a metric ton of wrinkle treatments on the market. Some work and some don't. Some are expensive, and some are affordable.
The best wrinkle treatment is to stop them from appearing in the first place.
6 Best All-Natural Ways to Prevent Wrinkles
1. Stay out of the Sun
Whenever you're outside you should be protecting your skin from the sun's damaging rays. Wearing sunscreen is an absolute must, and so is wearing a hat or clothing that is UV protective.
Don't forget to wear sunglasses and put sunscreen on your eyelids and under your eyes, as well as around your lips.
2. Eat Foods that Protect you from UV Rays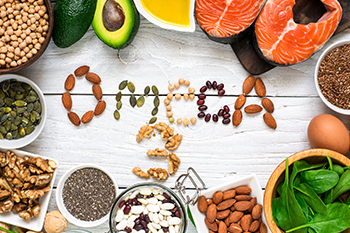 We all know to slather on the sunscreen. But did you know that you can protect your skin from the inside out?
Foods that have high levels of omega-3 fatty acids keep free radical damage from happening in your skin's cells.
And dark leafy greens, red and orange fruits, and other vegetables contain antioxidants that help too.
3. Don't Smoke, and Stay Away from People Who do
Here's another good reason why smoking is bad for you.
The nicotine in cigarettes stops blood flow to your skin.
Tweet
This robs the outer layer of your skin of oxygen and nutrients, leading to premature aging and wrinkles.
4. Drink Plenty of Water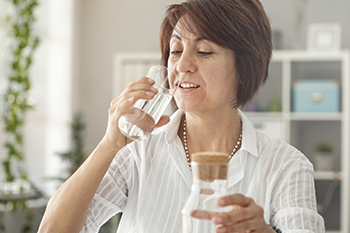 Staying hydrated helps you moisturize from the inside out. It also helps chase damaging toxins out of your body.
I recommend drinking about a gallon of water daily. You can even make drinking more water into a fun game!
If you want to give your liquid intake a wrinkle-fighting boost, drink green tea or coconut water. Both contain good-for-you antioxidants.
5. Moisturize with Natural Products
It's easy to drop hundreds of dollars at the drug store on fancy lotions. Most contain mineral oil and it's actually terrible for your skin.
Did you know that there are natural oils that can do a better job for less?
Try coconut oil, vitamin E oil, argan oil or olive oil. Grapeseed and hemp oils can help too.
6. Add more Collagen to Your Diet
You can make up for this by drinking a nourishing bone broth. This will plump up your skin and fill in wrinkles and fine lines.
If you want to add an all-natural moisturizing face mask to your beauty regimen, it can help too.
This one is quick and easy. Mix it up and apply to your face and neck. Leave it on for 15 minutes, then rinse with warm water and pat dry.
Egg White and Honey Face Mask

½ Tbsp. egg white

½ tsp lemon juice

½ tsp raw honey

¼ tsp unflavored gelatin

Mix all ingredients well and apply.

My all-time favorite natural face mask is this indulgent anti-aging chocolate mousse face mask recipe.
Mixing up this rich face mask is just one of many ways I can transform my home into a spa when I want to pamper myself and celebrate some me-time!
Yours in health and happiness,
Danette
P.S. I encourage you to share this article with your friends and I love hearing from you in the comments below. What's the one natural skin care tip that has worked for you?