Healthy and budget don't go together! Says who?! If you have a plan in place, you can make budget-friendly healthy meals work for you. For under $4 a serving you can whip up tasty, nutritious meals for your family. 
Cooking healthy meals on a budget can be easy with a little creativity!
5 Healthy Meals (for under $4 a serving)
1. Mayo-free Tuna Salad
You won't even miss the mayo!
Ingredients (For 2 Servings)
5 oz water-packed tuna, drained
1 tbsp fresh chopped basil
1/2 stalk celery, minced
2 tbsp lemon juice, or more to taste
Salt and pepper to taste
cayenne pepper to taste
Lettuce wraps
1 Mashed avocado OR 1/2 cup Greek yogurt (optional)
Transfer the tuna into a mixing bowl. Break the tuna chunks into smaller pieces. Add the lemon juice, basil, and celery to the bowl and mix it well. You can use avocado or Greek yogurt in place of mayo, continue mixing.
Add salt and pepper to taste. Serve in a fresh lettuce wrap. 
2. Vegetable Chickpea Curry with Brown Rice
Packs healthy proteins!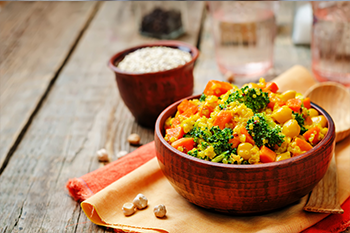 Ingredients (For 4 servings)
1.5 cups of chickpeas or (2 cans of chickpeas drained)
1 pound frozen broccoli/cauliflower/carrot blend
1 bell pepper, diced
1 15-ounce can coconut milk
1 tablespoon curry paste
1 teaspoon curry powder
1 cup brown rice, cooked
Place all ingredients except brown rice in a large pot. Simmer until heated through and the mixture thickens, takes about 20 minutes. Serve over brown rice. Easy peasy – or easy "chickpeasy" in this case! 
3. Spaghetti Squash and Meatballs
A true comfort food!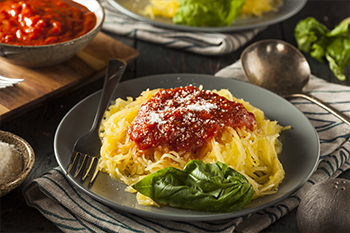 Ingredients (For 4 servings)
1 medium spaghetti squash
1 cup of water 
2 stalks chopped celery
1 carrot ( medium)
1 onion ( medium )
6 cloves of garlic 
1 cup parmesan cheese
2 cans of tomato puree
Fresh/dried parsley, oregano, and basil leaves to taste
3 Tablespoon +1 Teaspoon Extra virgin olive oil 
kosher salt (to taste)
Preheat the oven to 425 degrees F.
Halve the Squash, and scoop out the seeds. Sprinkle the cut sides with salt and brush both sides
with 1 teaspoon of olive oil.
In a baking dish put the squash, cut-side up. Make a tight cover with aluminum foil and roast for 20 minutes. Uncover and continue roasting until the squash is tender. It should take 35 more minutes.
Make the Fat Burning Turkey Meatballs: Get the recipe here.
Preparing the sauce: 
Pulse all the vegetables listed in a food processor or blender to make a paste. Save some for the meatballs.
Take a large pot and heat 3 tablespoons of olive oil. Add the vegetable paste to it and cook, with occasional stirs. The paste should dry in five minutes.
Add the tomato puree and a cup of water to the pot. Stir in the herbs with salt (to taste). Simmer and add the meatballs, keep cooking under low flame till the sauce thickens. Wait until the meatballs are cooked well. 
With the help of a fork scrape the squash flesh into strands. In a bowl add grated parmesan and toss the squash, along with salt.  Serve the spaghetti squash with meatballs and sauce. 
 Save the leftovers in the freezer for up to a month.
4. Black Bean Soup
Power up with bean protein!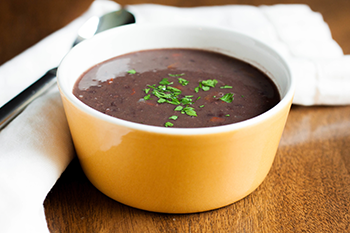 Ingredients (For 4 servings)
1 Tablespoon coconut oil 
1 medium onion 
2 -3 medium tomato (blanched)
1 celery stalk ( chopped)
1 medium carrot
2 cloves garlic chopped
1 tablespoon ground cumin 
Black pepper as needed
Kosher salt as needed
2 cups of canned black beans
1 cup frozen corn
2 cups vegetable stock
Heat oil in a large pot and saute garlic first for about 2 minutes or until browning, and then add the rest of the vegetables. Stir in the broth, cook for a minute, add the corn and a cup of beans, bring it to boil. Add cumin, and black pepper.
In a food processor, add the rest of the beans and blanched tomatoes until smooth. Stir this mixture into the soup to thicken it and simmer for 15 minutes.
Serve warm.
5. Eggs & Bacon Avocado Toast Stack 
Breakfast for dinner is always a hit!
Ingredients (For 2 servings)
2- 3 Lettuce leafs
2 Eggs (note: cage-free eggs are a scam)
5 slices of tomato
3 slices of Ezekiel bread
2 slices cooked turkey bacon 
1 avocado (mashed)
Salt & pepper to taste
Toast the Ezekiel bread and spread the mashed avocado, top it with lettuce. Cover it with the second toasted bread piece. Top it with bacon strips and tomato slices. Spread the avocado on the third toast, top with eggs and close it. Secure with a club frill, cut in half to share and enjoy.
You might also like:
5 Healthy Soup Recipes to Warm Your Soul
7 Small Food Swaps that Make a Big Difference
5 Best Places to Shop for Clean Ingredients
Yours in health and happiness,
Danette
P.S. Please pass this on to inspire your friends who want to eat healthy on a budget. I love reading your comments below too! Have you learned how to eat healthy without breaking the bank?