Cool off with these homemade chocolate pudding pops dipped in melted chocolate and studded with crunchy pistachios!
When was the last time you enjoyed a pudding pop? These kid-friendly summertime staples are all grown up in this dairy-free recipe that everyone in the family will love.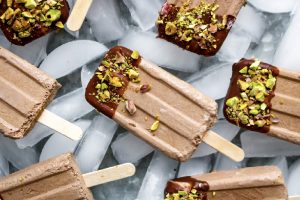 You get a health boost from the antioxidant power of raw cacao, and best of all, they're whipped up right in the blender for easy prep and cleanup! 
Processed chocolate treats like sugary ice cream novelties give chocolate a bad rap, when in fact, chocolate is really a superfood! Raw cacao, the purest form of chocolate, is full of powerful antioxidants that ward off free radical damage and repair cells, improve blood circulation, and, as we all know, it even boosts your mood. (1)
Look for organic, unheated raw cacao powder with no added ingredients—it's much better for you than processed cocoa.
We harness the power of raw cacao in these pudding pops for a chocolate lover's delight. The base of these pops is made with just three ingredients: cacao powder, coconut cream, and maple syrup. Blend it together for a velvety, pudding-like texture without the inflammation or digestive upset dairy can cause.
After the pudding pops harden in the freezer, we add a chocolate shell coating from melted chocolate chips for a dessert that rivals anything you can find at the ice cream truck! 
This frozen treat can also be vegan-friendly: just be sure to use chocolate chips without added dairy. You can even make these keto (keto's not my thing but you know your body best) by using 1/8 teaspoon of monk fruit sweetener in place of the maple syrup. 
Tips
Don't have any pistachios on hand? Chopped walnuts, almonds, or hazelnuts are just as tasty!
If you're having difficulty removing the pops, run the popsicle molds under lukewarm water for 30 seconds to loosen them.
Look for organic canned coconut cream packaged in a BPA-free can.
If you can't find coconut cream, use a can of full-fat coconut milk and reserve the water portion for smoothies.
Got leftover cacao powder? Save it for

these silky dark chocolate avocado truffles

. 
Chocolate Pudding Pops
Prep time: 5 minutes 
Freeze time: 8 hours 
Total time: 8 hours, 5 minutes 
Serves: 6
Tools
Blender
Popsicle molds 
Double boiler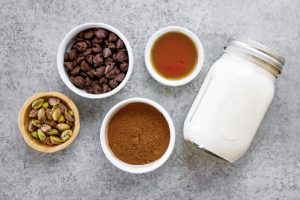 Ingredients
2 cups full-fat canned coconut cream, at room temperature 
3 T Cacao Bliss or raw cacao powder
2 T pure maple syrup 
1/2 cup dark chocolate chips 
1/4 cup chopped pistachios 
Directions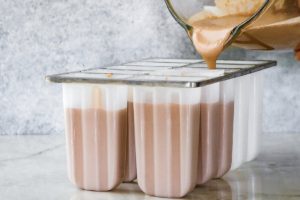 1. Combine coconut cream, cacao powder, and maple syrup in a blender until smooth. 
2. Pour evenly into six popsicle molds and insert the popsicle sticks. Freeze for 8 hours or overnight. 
3. Melt chocolate chips in a double-boiler and stir until smooth, about 7 minutes. 
4. Dip the tops of the pudding pops into the melted chocolate and sprinkle with pistachios.
5. Enjoy right away or freeze on a plate lined with wax paper until serving.
Special thanks to Jennafer Ashley over at PaleoHacks for sharing this delicious treat with you!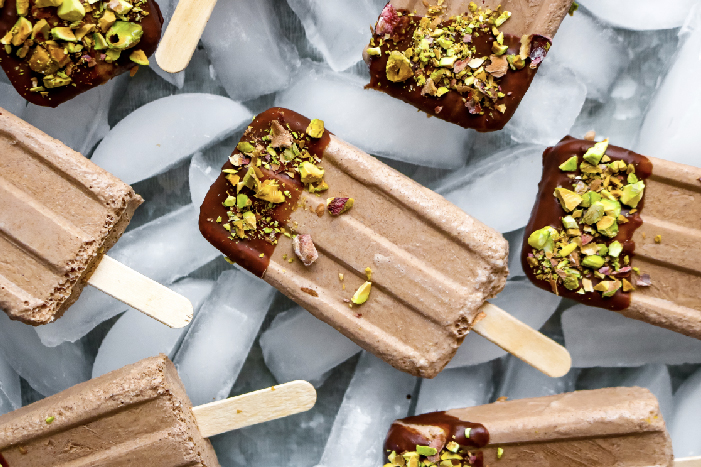 You might also like:
Yogurt Berry Protein Popsicles
Green Tea Coconut Zen Popsicles
Yours in health and happiness,
Danette
P.S. Please share this yummy recipe with anyone you know who loves indulging but likes to keep it healthy & I welcome your comments below! Do fast do you think your friends & family would gobble these up?