Valentine's Day is coming up, which means you'll need a decadent, easy, healthy dessert to help you celebrate all the different kinds of love in your life. And with this Red Velvet Cacao Pudding recipe, you can celebrate love without the guilt!
This healthy red velvet pudding is made from simple ingredients like coconut milk, coconut sugar, and arrowroot powder. It gets its gorgeous red color from fresh beet juice instead of questionable dyes. And the best part is the indulgent flavor from Cacao Bliss. 
Cacao Bliss is the perfect superfood for celebrating love because it helps unlock your "bliss" molecule, helping you reach a calm state of happiness. It can help soothe occasional stress and anxiety, making it much easier to connect with yourself and your loved ones during this love-filled holiday. *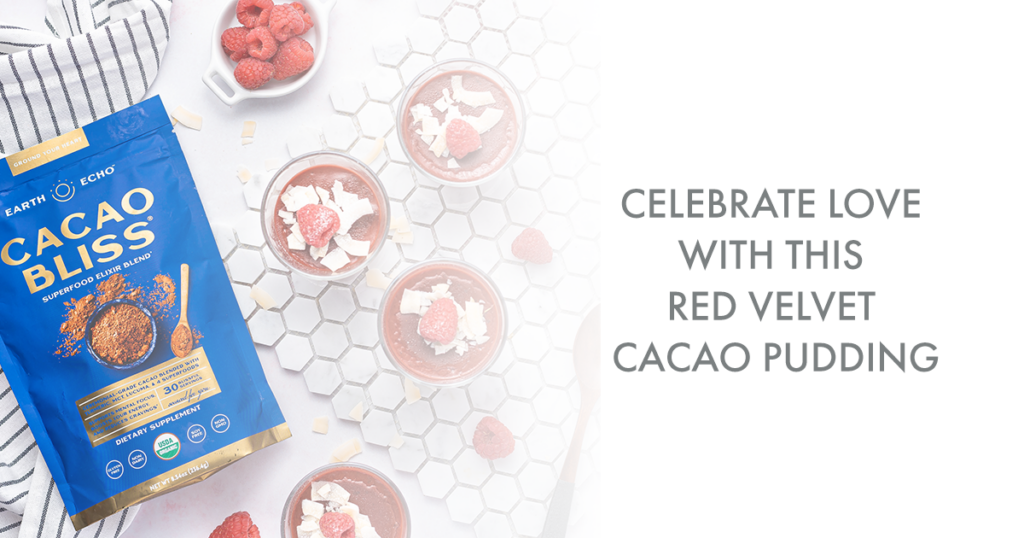 The recipe below makes 4-5 servings but can easily be halved or even doubled depending on how many servings you want. Plus, leftovers store well in the fridge. So you can enjoy a healthy chocolatey indulgence today and again tomorrow!
Give the recipe below a try and let us know what you think!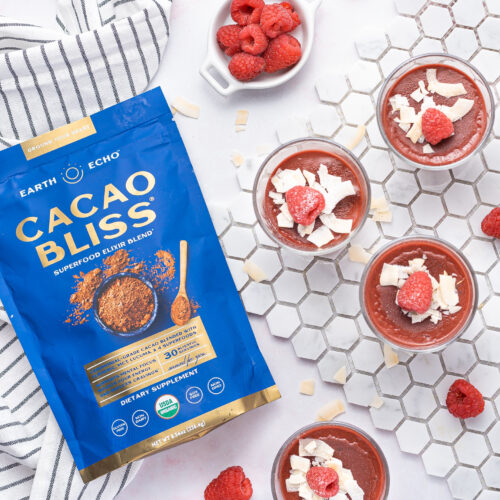 Red Velvet Cacao Pudding
Looking for a healthy Valentine's Day dessert? This Red Velvet Cacao Pudding is easy, decadent, guilt-free, and made with body-nourishing Cacao Bliss!
Ingredients
2

cups

coconut milk, divided

1/2

cup

coconut sugar

2

tablespoons

Cacao Bliss

1/2

cup

fresh beet juice

6

tablespoons

arrowroot powder

1/2

tablespoon

coconut oil

1

teaspoon

vanilla extract

A pinch of salt

1/4

cup

coconut flakes

1/4

cup

raspberries
Instructions
In a saucepan over medium heat, mix 1 cup of coconut milk and coconut sugar. Heat for 2 minutes until the coconut sugar dissolves.

Meanwhile in a small bowl, mix the remaining 1 cup of coconut milk, Cacao Bliss, fresh beet juice, arrowroot powder, and salt. Whisk together until completely combined.

Stir the beet juice coconut milk mixture into the saucepan. Whisk to combine and stir constantly over medium heat until it starts to thicken. Remove pan from heat and whisk in coconut oil and vanilla extract. Slowly pour the mixture into glass jars, cups, or a bowl.

Let it cool for 20 minutes before placing it in the refrigerator to cool completely, at least 2 hours.

Top the pudding with coconut flakes and raspberry before serving.
Whether you're showing yourself a little love or sharing the love with family and friends, there's nothing better for Valentine's day than this healthy Red Velvet Pudding dessert. Be sure to stock up on Cacao Bliss through the link below!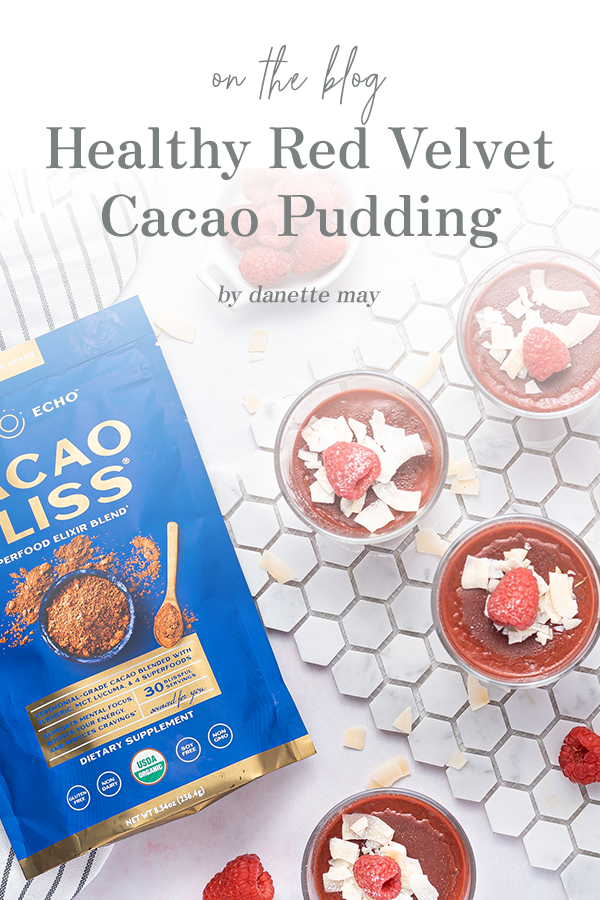 *These statements have not been evaluated by the Food and Drug Administration. These products are not intended to diagnose, treat, cure, or prevent any disease.