You won't even know that sneaky sweet potatoes are hiding in this smooth and creamy cacao pudding!
This five-ingredient chocolate pudding recipe is about to become your new favorite. A little extra fiber from the sweet potatoes helps cut down on sugar, keeps you satisfied for longer, and lends the pudding all that sweet and creamy texture you crave.
To get this pudding nice and chocolatey, we use raw cacao powder for a rich, dark chocolate taste without any of the additives of cocoa.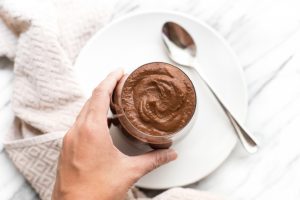 Since we already get much of the sweetness from sweet potato purée, we only need a little bit of maple syrup and vanilla extract.
Tip: You can also use raw honey, or even coconut sugar if you prefer!
For a little extra creaminess, we used coconut milk. Feel free to use the top portion of full-fat canned coconut milk for ultimate creaminess!
Start with three cups of sweet potato purée. If you don't have any purée on hand, you can use about two medium-sized sweet potatoes.
Scrub them really well, then prick all over with a fork and bake in the oven at 400°F for about 45 minutes, or until they are tender enough to be pierced with a fork. Once they're cool enough to handle, slice the sweet potatoes in half, scoop out the flesh, and mash them until you get a creamy purée.
Next, add the sweet potato purée to a blender and add the coconut milk, maple syrup, vanilla extract, and cacao powder. Blend on high speed until you get a thick, creamy pudding. Chill the pudding in the fridge for at least an hour, then serve plain or topped with whipped coconut cream!
If you like dessert recipes with sweet potato hiding inside, you'll love these super-chocolatey sweet potato brownies!
Creamy Cacao Sweet Potato Pudding
Prep Time: 10 mins
Chill Time: 1 hour
Total Time: 1 hour 10 mins
Serves: 2
Tools:
High-speed food processor or blender
Ingredients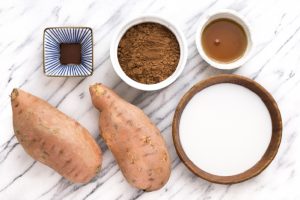 3 cups sweet potato purée (about 2 cooked sweet potatoes)
1 cup coconut milk
3 T maple syrup
1 t vanilla extract
½ cup Cacao Bliss or raw cacao powder 
Directions
1. Add all ingredients to a high-speed food processor.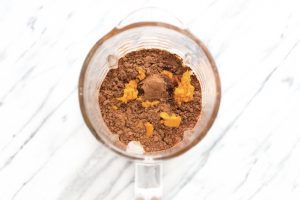 2. Blend the ingredients for about ten minutes, or until you get a thick and creamy mixture.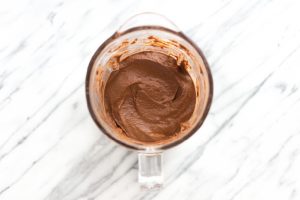 3. Transfer the pudding to a bowl or jars, and chill in the fridge for at least an hour before serving.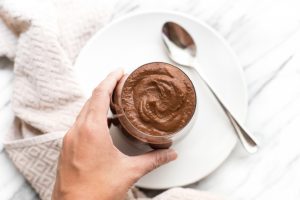 Big thank you to Felicia Lim from my friends over at PaleoHacks for sharing this yummy recipe!
You might also like:
Yours in health and happiness,
Danette
P.S. I encourage you to share this recipe with your friends and I'd love to hear from you in the comments below. Did you try the recipe?