As the warmer weather of summer fully takes hold, we can help but start craving big, fresh salads loaded with all the colorful produce the season has to offer. And while using seasonal produce is the foundation of any delicious salad, a bold, flavorful dressing helps take a salad from good to incredible! And that's exactly what this Golden Spiced Salad Dressing does!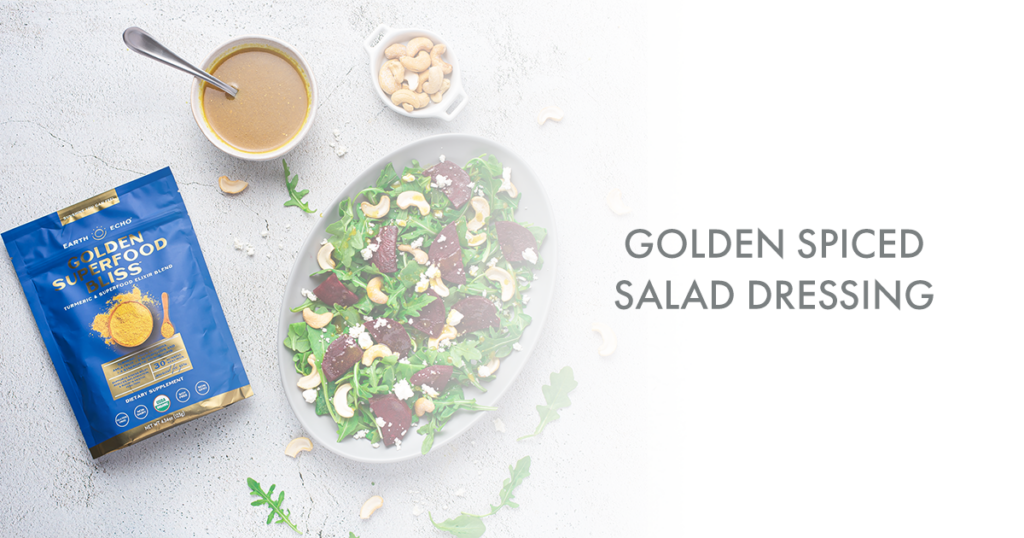 Golden Spiced Salad Dressing Ingredients
Everyone needs a go-to vinaigrette they can quickly whip up at a moment's notice. And this vinaigrette only requires a handful of ingredients. The base is made up of a simple mixture of equal parts olive oil and lemon juice. From there, you'll simply need a bit of maple syrup to balance the acidity of the lemon juice and some ground ginger and onion powder for flavor. But the real flavor secret in this dressing is the Golden Superfood Bliss!
Health Benefits
The earthy blend of spices and subtle sweetness found in Golden Superfood Bliss lends itself perfectly to creating a flavorful vinaigrette. Plus, you get the added benefit of superfoods like turmeric, black pepper, cinnamon, cardamom, ashwagandha, and ancient mushrooms.
This powerful blend of 12 superfoods helps to curb cravings and soothe occasional stress and anxiety while providing a mouthwatering blend of flavors to the vinaigrette. *
Recipe Notes
You can easily replace the lemon juice in this recipe with vinegar. White wine, red wine, and apple cider vinegars would all work. 
For the olive oil, it's best to use a really high quality, cold-pressed, extra-virgin olive oil. It creates the base of the vinaigrette and can make a real difference in the flavor.  
If you don't have Golden Superfood Bliss, you can use ½ tablespoon of turmeric in its place. Though you will miss out on the depth of flavor and health benefits of the superfood blend. 
You can make this healthy vinaigrette in advance and store it in the fridge in an airtight container for up to a week.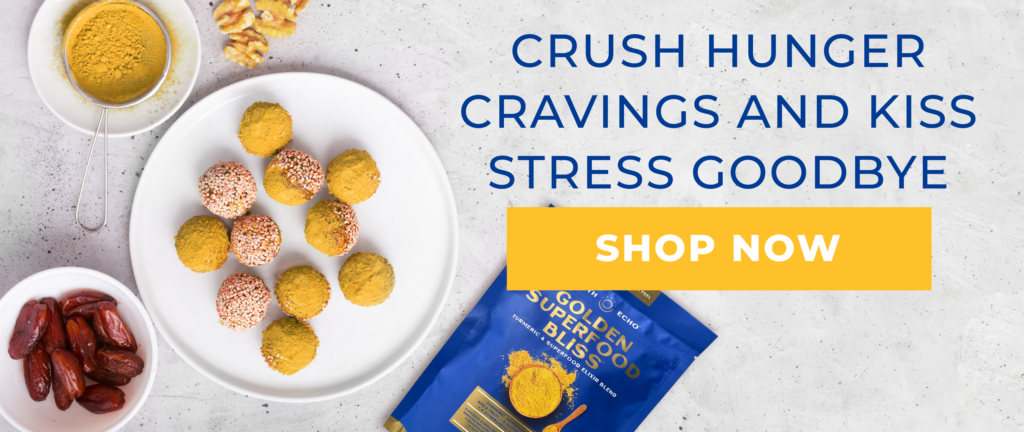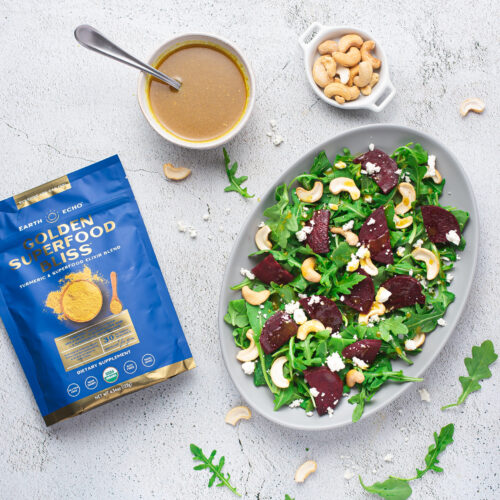 Golden Spiced Salad Dressing
This vinaigrette only requires a handful of ingredients and creates a bold, flavorful dressing that helps take a salad from good to incredible!
Ingredients
1/4

cup

olive oil

1/4

cup

lemon juice

1

tablespoon

Golden Superfood Bliss

1

tablespoon

pure maple syrup

1/2

teaspoon

ground ginger

1/2

teaspoon

ground onion powder

1/8

teaspoon

salt

1/8

teaspoon

ground pepper
For Beet Salad
2

medium

beetroots, greens and root ends trimmed off

1/4

cup

water

2

cups

arugula

5-10

cashews, halved

1/4

cup

crumbled goat cheese
Instructions
In a small bowl, combine olive oil, lemon juice, Golden Superfood Bliss, maple syrup, ginger powder, onion powder, salt, and pepper. Whisk well until combined. Alternately, add all ingredients to a jar. Secure the lid and shake vigorously until combined. Store dressing in the refrigerator until ready to use.

To make the beet salad, rinse the beets under cold to clean them. Then use a fork to pierce the beets all over. Add the beets to a microwave safe bowl with ¼ cup water. Microwave the beets for 10 minutes. Allow the beets to sit in the microwave for 5 minutes before removing them to cool.

Once the beets are cool enough to handle, peel off the skin. Slice the beets into ¼-inch thick slices.

Place the arugula on a serving platter or large plate, then layer on the sliced beets and top with cashews and goat cheese.

Drizzle the salad with Golden Spiced Salad Dressing and serve immediately.

Leftover dressing can be stored in a lidded container for up to one week.
This healthy Golden Spiced Salad Dressing is good on more than just salads, too! Try it on roasted vegetables or grilled meats to elevate the flavor and add even more superfoods into your diet. Grab your bag of Golden Superfood Bliss through the link below and give it a try!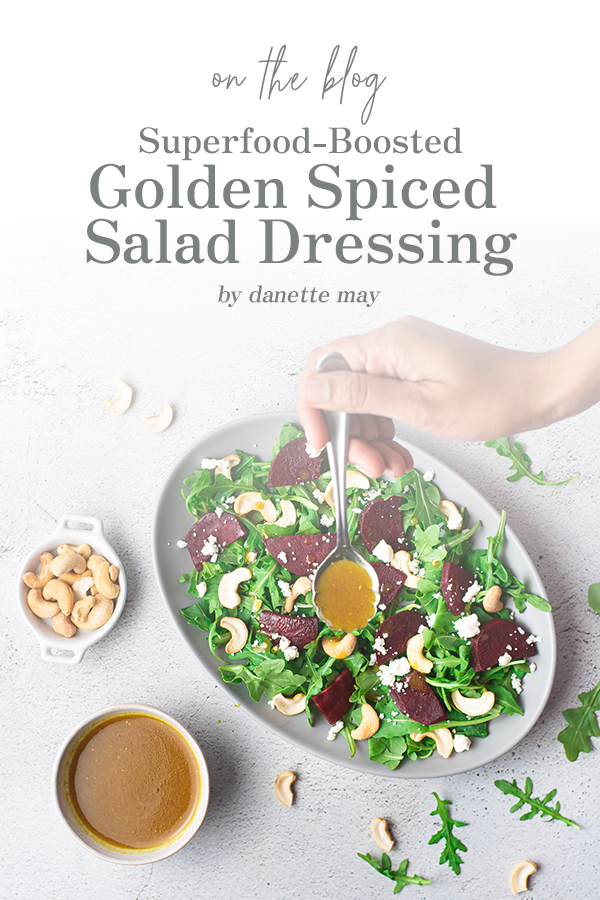 *These statements have not been evaluated by the Food and Drug Administration. These products are not intended to diagnose, treat, cure, or prevent any disease.