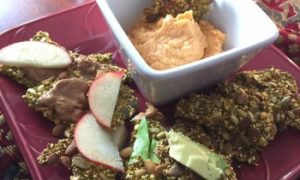 So excited to share this recipe!
Recently I asked my members to submit their own healthy creations as part of my Healthy Holiday Recipe Challenge.
I was blown away by all the yummy and healthy recipes that were shared.
This recipe was in the top five out of hundreds of entries! Thanks to Forever Fit Club member, Laurie Bigelow Smith of Richfield, Minnesota who submitted this crunchy goodness.
Laurie writes: "I love crunchy crackers especially with soup and chili season here. I usually have a couple in the A.M. with almond butter before I workout. The original recipe that inspired me was from Ohsheglows.com"
Yours in health,
Danette
P.S. Please share this healthy recipe with your friends and I'd love to hear from you in the comments below.