Looking for a quick recipe for a last-minute holiday party? Or how about a healthy snack to munch on while you wrap gifts? Either way, these Chai Spiced Candied Pecans are here to keep the festive atmosphere going!
Making spiced nuts is incredibly easy, it just takes a little time and attention. This isn't the type of recipe you can start and then get distracted by something else. It can go from ready to burned fairly quickly, so keep that in mind. However, it only takes about 5-7 minutes of devoted attention, and it's so worth it for the end result.
The base for this recipe calls for butter, sugar, and pecan halves. But if you don't like pecans — or simply want to use what you have on hand — feel free to swap them out for just about any other nut option. Walnuts, almonds, and cashews all work well. Just be sure to keep an eye on them as they roast as some nuts will brown faster than others.
To take these homemade candied nuts from "pretty good" to "utterly addictive" we used Chai Bliss to add all the craveable spiced flavors you long for this time of year.
Of course, Chai Bliss does so much more than taste delicious. The classic blend of superfood spices is full of antioxidants. And the addition of natural nootropics like L-theanine and astragalus helps boost brain energy, focus, and immunity, while zinc and lion's mane further help support cognitive function and immunity. Chai Bliss is the perfect nourishing companion for this time of year. *
Whether you want a healthy snack to nosh on or a little something sweet to give away as a gift, these Chai Spiced Candied Pecans are sure to be a hit. Give the recipe a try ASAP!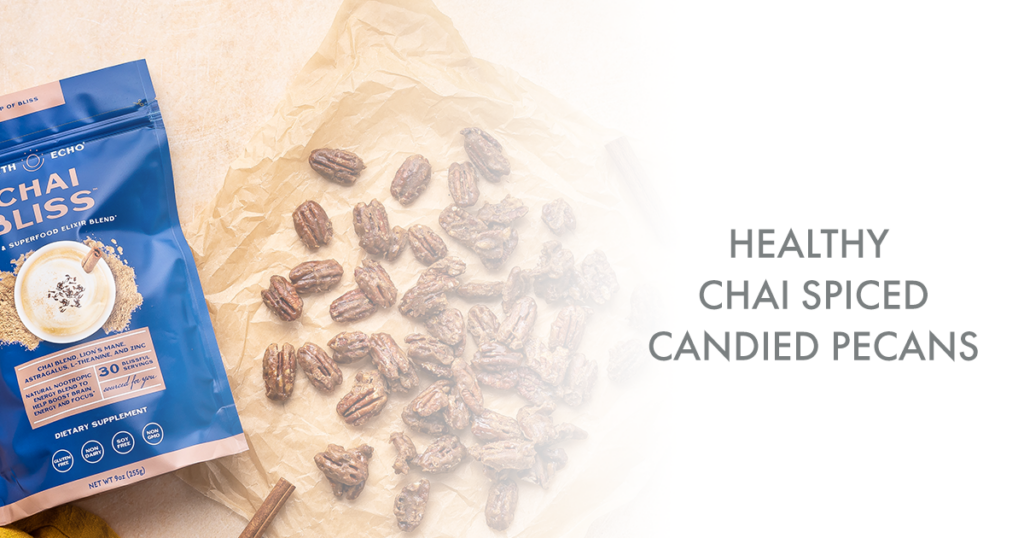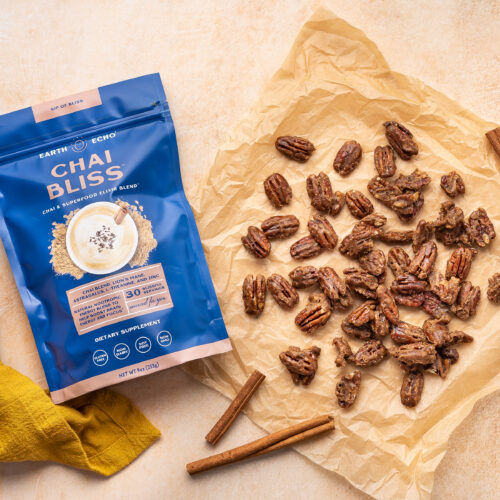 Chai Spiced Candied Pecans
Whether you need a quick last-minute holiday snack or something to munch on while wrapping gifts, these Chai Spiced Candied Pecans are here to keep the festive atmosphere going!
Ingredients
2

tablespoons

unsalted butter

1/2

cup

coconut sugar

3

tablespoons

water

3

cups

pecan halves

2

tablespoons

Chai Bliss

1

teaspoon

ground cinnamon

1/2

teaspoon

salt
Instructions
Preheat the oven to 375° F. Line a baking sheet with parchment paper.

Melt the butter in a large pan over medium heat. Stir in sugar and water and heat until the sugar dissolves.

Add in the pecans, Chai Bliss, cinnamon, and salt. Stir constantly to coat the pecans evenly and allow the sauce to thicken. Once the sauce is no longer runny, remove from heat.

Transfer the mixture to the prepared baking sheet, spreading it into an even layer.

Bake for 15 minutes, stirring every 5 minutes. Remove from the oven and allow to cool before serving.

Store the cooled candied pecans in an airtight container at room temperature for up to a week.
These Chai Spiced Candied Pecans are so delicious, you'll want to make them all year long! So be sure to stock up on Chai Bliss through the link below!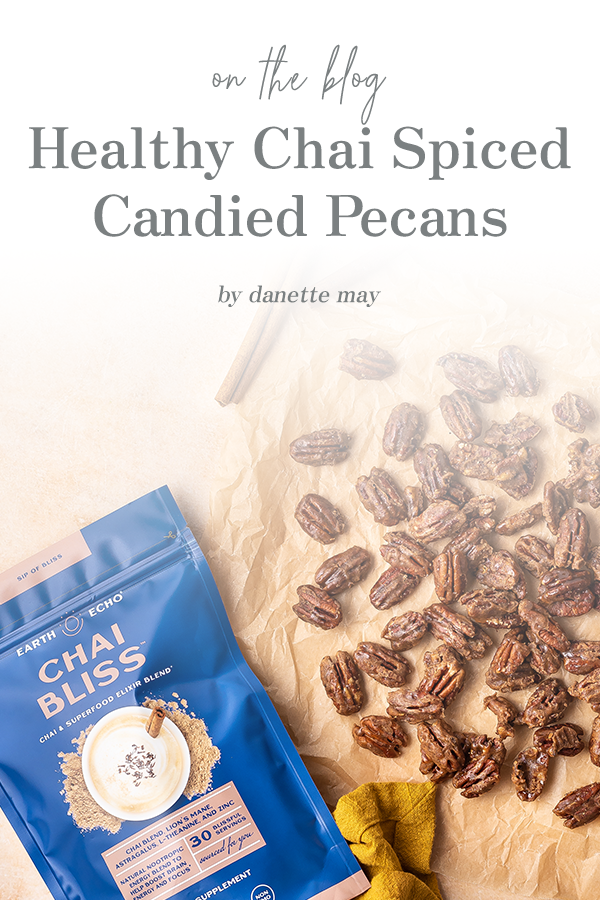 *These statements have not been evaluated by the Food and Drug Administration. These products are not intended to diagnose, treat, cure, or prevent any disease.