Who doesn't love a warm, gooey chocolate chip cookie as a comforting snack or dessert? I think the only thing that some people might like even more than a chocolate chip cookie is chocolate chip cookie dough! 
This new recipe for chocolate chip cookie dough is not only a cleaner, healthier version, but it's also packed with protein from quality sources like cashew butter and protein powder. So it's not only delicious but will give you the energy boost you need at any time of day — as an afternoon pick-me-up or a post-workout snack. 
Protein-Packed Chocolate Chip Cookie Dough
Ingredients:
1-1/4 cup raw oats blended to make oat flour
1/2 cup of cashew butter
1/2 cup raw honey
3/4 tbsp vanilla
Pinch of sea salt
2/3 cup of protein powder
1 to 2 tbsp of almond milk (depending on your consistency)
Dark chocolate morsels or cacao nibs (70% cacao or higher)
A little bit of raw walnuts
Directions:
Mix everything and roll into bite-sized balls.
You can store in the fridge if you want it cold.
Enjoy!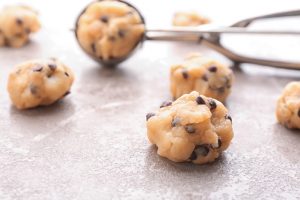 It's always nice to have bite-sized sweet treat around to satisfy your sweet tooth or for a little pick-me-up blast of energy. I hope you will enjoy having this protein-packed chocolate chip cookie dough in your fridge each week as a grab-and-go snack as much as I do!
You might also like:
Yours in health and happiness,
Danette
P.S. Please share this delicious recipe with your chocolate chip cookie dough loving friends. I always love reading your comments below too! Will you try these?