If you're anything like me, by the time the afternoon hits, so do my cravings. So having something on hand that gives me energy, curbs my sweet craving, AND is healthy is a must! Thankfully, these golden nuggets are easy to make and store well in the freezer or fridge so I can just grab-and-go on those super busy days.
Made with healthy fats and our exclusive superfood elixir blend, Golden Superfood Bliss, this recipe does a body good. These bites can help keep your body nourished and your energy levels high – something I need to stay on top of my busy schedule!
Check out the video to see how to make these little gems, then place your order for Golden Superfood Bliss so you can satisfy your sweet tooth in a healthy way without skipping a beat.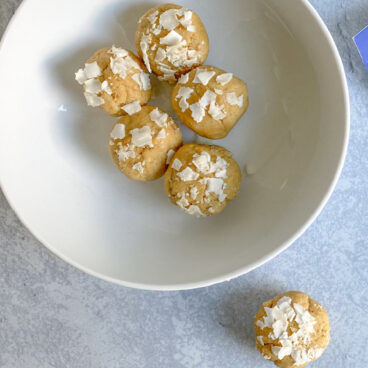 Golden Energy Bites Recipe
These Golden Energy Bites are healthy, easy, and perfect for when those sweet cravings hit. Plus, they store well in the freezer or fridge and are a great grab-and-go option when things get hectic.
Ingredients
1/3

cup

unsweetened nut butter of choice

2

tablespoons

pure maple syrup

2

tablespoons

crushed pecans

1

scoop

Golden Superfood Bliss

1

teaspoon

vanilla extract

1/3

cup

coconut flour

Coconut flakes, for garnish
Instructions
In a bowl, add the nut butter, maple syrup, crushed pecans, and Golden Superfood Bliss. Stir together until smooth. 

Add the vanilla and flour. Mix with a spoon until most of the flour is incorporated. 

Knead the mixture until a dough forms. 

Form into balls and roll in coconut flakes to coat. Enjoy!
Be sure to get stocked up on Golden Superfood Bliss so you're ready to make these treats and other great recipes!
You may also be interested in:
Dig Into These Delicious and Healthy Golden Crepes
This Golden Gingerbread Cake Will Make Your Taste Buds Smile