You don't need to go to a fancy chocolate shop to indulge in rich and decadent truffles. This homemade recipe is packed with healthy raw cacao powder and almond meal, so you get a rich boost of magnesium and protein instead of empty calories.
Plus, these little bites of heaven are naturally sweetened with Medjool dates, so you can enjoy a little treat without any processed sugar. And no baking or chilling required!
Cacao-Dusted Truffles
Prep Time: 30 minutes
Total Time: 30 minutes
Serves: 18 truffles
Tools:
Food processor or high-speed blender
Large mixing bowl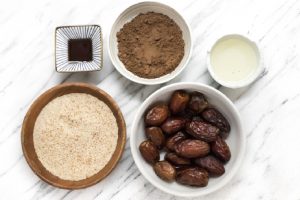 Ingredients:
2 cups Medjool dates (approximately 18 dates), pits removed
¼ cup filtered water
2 T coconut oil, melted
1 T vanilla extract
1 cup almond meal or almond flour
¼ cup Cacao Bliss or raw cacao powder (+ more for dusting)
¼ t pink Himalayan salt
Directions:
Place the pitted dates, water, melted coconut oil, and vanilla extract together in the food processor.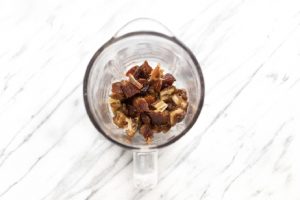 Blend until you get a thick, brown paste, scraping down the sides as needed.
Transfer the date paste to a mixing bowl and add the almond meal, cacao powder, and salt. Mix well to combine.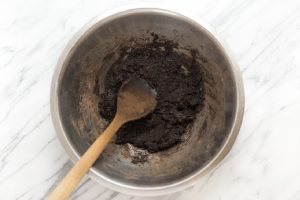 Once it becomes manageable and not too sticky, roll a rounded teaspoon of the mixture between your palms to form a small ball.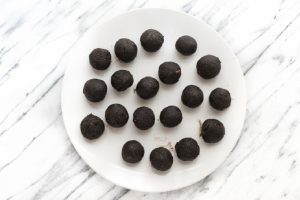 Roll each ball in cacao powder to coat evenly all over.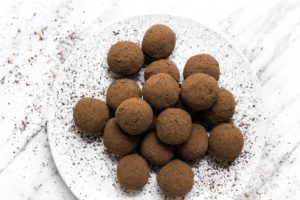 Enjoy your chocolate truffles immediately, or store them in an airtight container in the refrigerator for up to 10 days, or in the freezer for up to three months.
Bonus Tip: I used almond meal in this recipe for volume, but you can also use finely ground cashews or walnuts for a different flavor.
These bite-sized chocolate truffles are a healthy treat that is out-of-this-world divine. 
Special thanks to Felicia Lim at PaleoHacks for contributing this recipe to share with you!
You might also like:
Delectable Chocolate Protein Cake
Chocolate Chip Cookie Dough Protein Balls
Healthy Chocolate Peanut Butter Cups
Yours in health and happiness,
Danette
P.S. Feel free to share this delicious recipe with your friends and family! And please comment below — do you love truffles?