Want lots of flavor with your fiber? This Stuffed Acorn Squash recipe will do the trick!
Acorn squash — with its yellow-orange flesh that tastes both sweet and nutty — is a fantastic source of vitamins, minerals, and fiber. Add to it the protein of quinoa, the added fiber of chickpeas, and all the other healthy nutrients of these power-packed recipe ingredients and you have a flavorful and well-balanced meal that will keep your tummy satiated, your energy up, and your tastebuds happy. 
This warm Stuffed Acorn Squash dish will feel like comfort-on-a-plate and get the whole house smelling amazing. Make this a go-to recipe in the fall months to get the most nutritious, vitamin-packed picks.
This recipe feeds 4 people, so grab a couple friends or loved ones to share in the yum! Enjoy!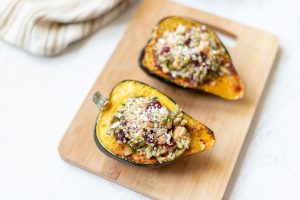 Stuffed Acorn Squash Recipe
Serves 4
1 Acorn Squash
¼ cup dried cranberries
¼ cup flat leaf parsley, minced
1 clove of garlic, minced
¼ cup green onions, sliced
2 tablespoon lemon juice
1 cup cooked quinoa
1 cup chickpeas, rinsed and drained
1/2 cup feta cheese
1/2 cup pumpkin seeds
Preheat oven to 400 F and line a baking sheet with parchment paper. Slice acorn squash lengthwise and scoop out seeds. Rub with oil, salt and pepper and place face down on a baking sheet and bake for about 35-40 minutes.
Toast pumpkin seeds in a tablespoon of olive oil on medium heat until golden. 
Mix cooked quinoa, chickpeas, toasted pumpkin seeds, green onion, lemon juice, salt, pepper, and minced parsley in a bowl, drizzle with olive oil. Stir until combined.
Cut each acorn half in half again and scoop mixture evenly onto to all four sections. Sprinkle with salt, pepper and feta or goat cheese.
I always encourage you to try new foods, at least once, even if you think you won't like them. Let me know in the comments below if you've tried acorn squash before! 
You may also be interested in:
Zucchini Noodles with Fresh Pesto
All my love,
Danette