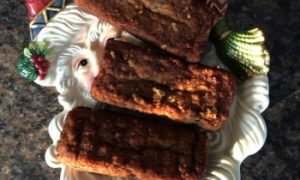 You're gonna love this indulgent treat!
This deliciously satisfying recipe was one of the Top 5 recipes submitted by my members last month!
There were hundreds of recipes submitted, but one bite of this and you'll know why it was selected as a finalist in my recent Healthy Holiday Recipe Challenge.
Thanks again to member, Michelle Brown Connors of Macomb, Michigan for submitting this tasty and oh-so-healthy recipe!

If you're using a small loaf pan, bake for 30 minutes. If you're using a large loaf pan, bake for 50-60 minutes.
Yours in Health,
Danette
P.S. Please share this yummy recipe with your friends and I always love hearing from you in the comments below.