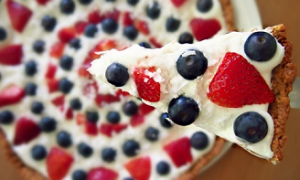 This is one of those recipes that's as fun to make as it is to eat.
My fruity dessert pizza is a huge hit at parties, plus it gives you a healthy dessert option.
If you have kids, they'll like adding the toppings and you'll have plenty of help eating it too.
Use any fresh fruit you have on hand to top your festive masterpiece. Get creative!
INGREDIENTS
Makes 1 large pizza
for the crust
3 cups soft pitted dates
2 cups whole almonds
1 cup unsweetened shredded coconut
1/2 cup unsweetened cocoa powder
1/4 cup raw honey
1/4 cup natural, unsweetened almond butter (or natural, unsweetened peanut butter)
for the middle
2 1/2 cups Greek yogurt (I like Fage 0%)
1 tsp. vanilla
Toppings: sliced strawberries, blueberries, blackberries, raspberries, unsweetened shredded coconut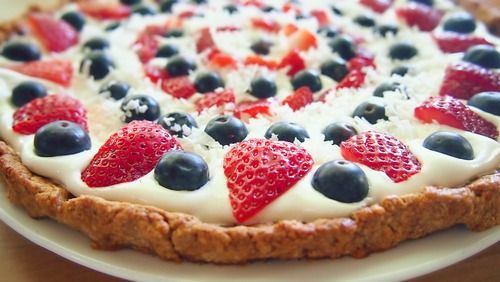 DIRECTIONS
Line a pizza pan with parchment paper.
Mix the dates, almonds, coconut, and cocoa powder in a food processor until all is broken down completely.  Add the honey and almond butter and mix until it forms a ball.
Shape the mixture into a ball. Press the mixture onto the pizza pan. Press the "dough" to the edges of the pan. Press the crust so it is evenly distributed all the way to the edge of the pan.
Put the crust in the freezer for 10 minutes. (Wash and slice the fruit while you wait.)
Mix the vanilla into the Greek yogurt and use a spatula to spread yogurt on the crust.
Top the crust with fruit in a circular pattern. Chill until ready to serve. A pizza cutter works well for slicing when you are ready to serve. Enjoy!
You can freeze the leftovers but it looks and tastes best when served freshly chilled.
Yours in Health,
Danette
P.S. I hope you'll share this healthy, fun recipe with your friends and I love reading your comments below.