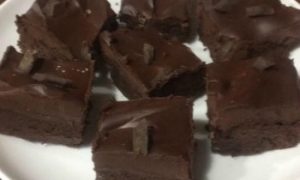 Wait until you see what member Holly Kerl of Spokane, Washington has in store for your taste buds today!
Holly's mouthwatering brownie recipe was chosen as a finalist in my Healthy Holiday Recipe Challenge last month and it's as healthy as it is delicious. All of my tribe sisters raved about it too and I'm so excited to share it with you!
Holly writes: "These would be excellent with about one tbsp. of fine espresso powder added to the 10 ounces of melted chocolate."
Flourless Brownies with Ganache Topping
Brownies
Ingredients
10 ounces good 70% or higher dark chocolate (chopped)
4 tbsp coconut oil
3/4 cup coconut Palm sugar
3 eggs (room temp)
2 tsp pure vanilla
1/4 cup cacao powder (or dark cocoa)
1/4 tsp kosher salt
Directions
To start: Line 8×8 baking dish with parchment overlapping sides and spray well with coconut oil spray. Preheat oven to 350F
Melt 10 ounces dark chocolate over double boiler (or metal bowl over simmering water), add in coconut oil and coconut palm sugar.
Stir until all is well melted and smooth.
Once melted remove from heat to avoid it burning. In a separate bowl add eggs and vanilla and beat with mixer until light and very frothy.
Stir in 1/4 cup cacao powder and salt. Mix well to combine. Slowly add melted chocolate mixture into eggs so as not to cook eggs.
Mix will thicken. Stir until well combined. Pour into prepared baking dish and tap on counter to remove bubbles.
Bake in oven 22 to 25 minutes.
Do not over bake. Set on cooling racks and cool completely. Once cool make the ganache (recipe below).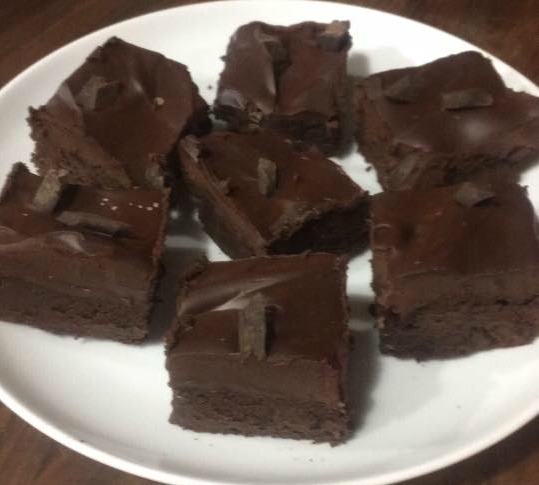 Ganache
Ingredients
6 ounces good quality 70% or higher dark chocolate, chopped
1/2 cup coconut milk (organic)
Dark chocolate chunks (or chips or whatever you like) for sprinkling on top
Directions
Melt chocolate over double boiler, add in coconut milk and stir until smooth and shiny.
Spread on brownies and sprinkle with chocolate chunks.
Now the hard part, place in fridge uncovered at least one hour to harden Ganache.
Then, finally cut into desired squares and try not to eat them all at once!
Please feel free to add or replace whatever ingredients you want to make this recipe work perfectly for you.
Yours in health,
Danette
P.S. Please share this recipe with your friends and I always love reading your comments below.