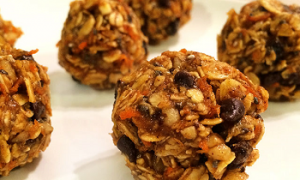 If you're on a clean eating plan you're probably no stranger to my chocolate chip cookie dough balls, heavenly coconut balls and other sweet treats.
They are among my most popular recipes and for good reason!
I keep one of these recipes at the ready in my freezer at all times. They come in handy when I want a little sweet treat that won't expand my waistline. Today I have a brand new recipe that I am loving!
If you like carrot cake, you will LOVE these Carrot Cake Cookie Bites.
INGREDIENTS
1 cup rolled oats
1/2 cup shredded carrots
1/4 cup raisins
1/4 chopped almonds
1/2 tsp cinnamon
1/8 tsp cloves
1/8 tsp nutmeg
1/3 cup almond butter
1/4 cup 100% maple syrup or raw honey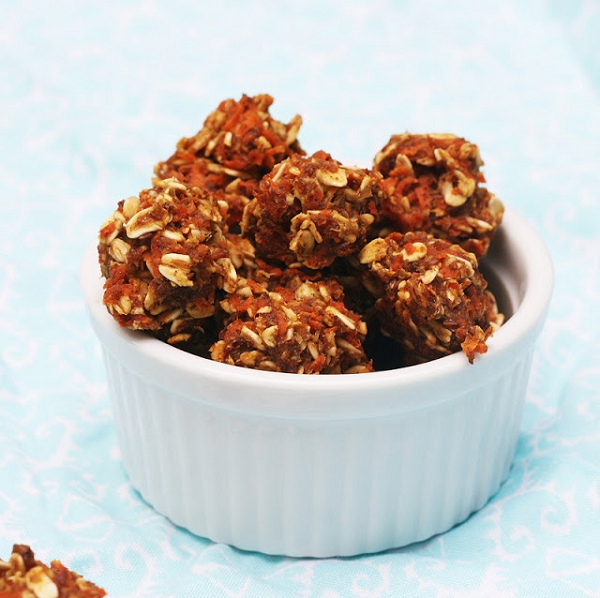 DIRECTIONS
In a mixing bowl, mix together oats, shredded carrots, almonds, raisins, and cinnamon.
Add almond butter and honey and mix together thoroughly.
Place mixture in the refrigerator for one hour.
Shape into one-inch bites.
Hope you will enjoy adding these to your own freezer each week as much as I do!
Yours in Health,
Danette
P.S. Please share this delicious recipe with your carrot cake loving friends. I always love reading your comments below too! Will you try these?