A lot of people have asked me "What is a Cacao Ceremony?" It's sometimes called a "Cacao Meditation" or even a "Cacao Party."
It's an ancient practice and I've had the honor of leading these for groups, both large and small. Most recently, I shared this powerful at experience at the home of Nelson Mandela in Africa!
Watch this video to find out why it's so special and as promised, here's a link to learn more about the properties of Raw Cacao
Want to Experience a Raw Cacao Party for Yourself? (And hear me speak!)
I'm excited to share that I'll be speaking — and leading a Cacao Ceremony! — at Ignite and Expand in Palm Beach April 25th -28th, 2019!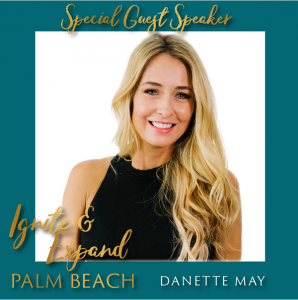 This 3-day transformational event, hosted by Suzanne Adams and Cameo Gore is going to be absolutely magical and I'm excited to invite you to attend in person!
You can GET YOUR TICKETS HERE. (Hurry, you'll get a MASSIVE discount if you register before 2/14/19 and this event is sure to sell out.)
I hope I've helped remove some of the mystery about Raw Cacao and I hope to see you in Palm Beach this April!
Yours in health and happiness,
Danette
P.S. Please help me spread the word about the power of raw cacao by sharing this with your friends. Have you ever been to a "Cacao Meditation/Party/Ceremony," would you?