Step aside, fudge! This holiday season, we're all about this healthy yogurt bark, ideal for sharing… or keeping to yourself!
Packed with probiotics courtesy of the Greek yogurt and antioxidants from the cacao chips and berries, this delicious treat tricks your sweet tooth into submission and makes your body both happy and healthy during what can be a stressful season full of overindulgence.
This healthy yogurt bark recipe is easy to make and easy to transport, making it the ideal contribution to the company potluck or family holiday party.
Try this one out and let me know in the comments below what you think. Can't wait to hear from you!
BERRY YOGURT BARK
RECIPE
INGREDIENTS:
3 cups plain Greek yogurt
1 tsp vanilla extract
1/3 cup raw honey
1 cup sliced strawberries
1 cup blueberries
½ cup cacao chips
Parchment paper
 
DIRECTIONS:
1. Lay a piece of parchment paper over a baking sheet.
2. Mix together the Greek yogurt, honey, and vanilla in a large bowl until combined well.
3. Spread the Greek yogurt out in an even layer onto the parchment paper. (Do not make your yogurt layer too thin, or it will crumble under the weight of the berries.)
4. Place the sliced strawberries along the surface of the yogurt, then add the blueberries.
5. Sprinkle on the cacao chips. Optional: drizzle yogurt bark with extra honey at this point, if desired.
6. Place the sheet pan into the freezer to set for at least 3 hours. (Overnight would be best.) The longer it has to set, the easier it will be to break into pieces.
7. Store in an airtight container in the freezer for up to a week.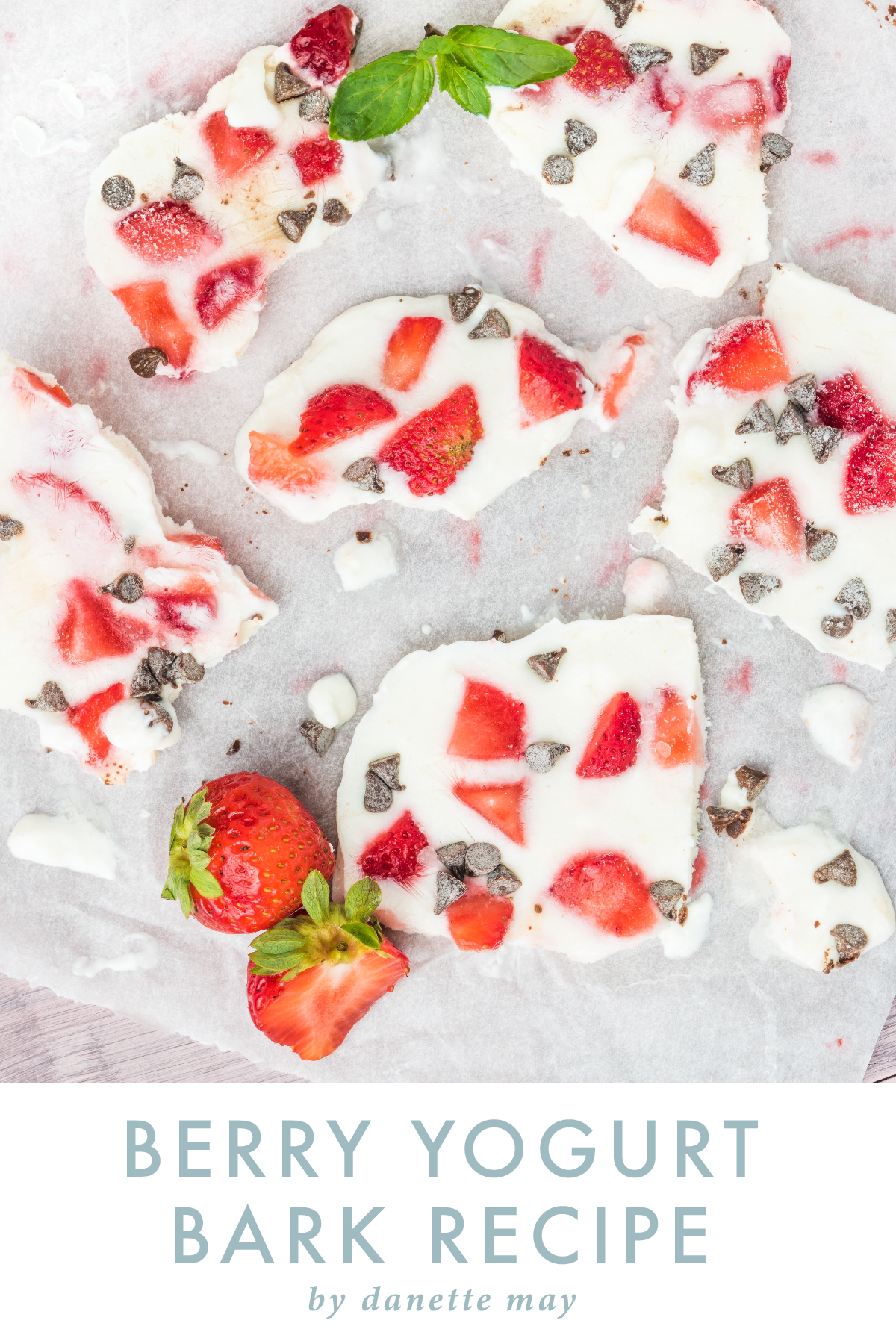 You may also be interested in:
Easy Yogurt Berry Protein Popsicles
Fun, Festive, & Fruity Dessert Pizza
CRUNCHY APPLE, CRANBERRY & WALNUT SALAD