Here's a tried and true recipe from my friends, The Real Food Dietitians that's soon to become your new favorite yogurt-topper or go-to healthy treat!
The honey in this Granola recipe adds the right amount of sweetness and the nuts and seeds add the perfect crunch.
If you're making this granola to share with friends or family, you may want to double the batch because it likely won't last long – it's quite tasty. And everyone loves granola!
This recipe is paleo-friendly, grain-free, gluten-free, dairy-free, refined sugar-free and vegan-friendly.
Feel free to substitute your favorite nuts and seeds!
No need to make a special trip the grocery store. Use whatever nuts and seeds you have on hand and you'll be good to go!
5-ways to enjoy this granola!
1. As is. So good! Just be sure to grab a measuring cup and portion it out. About 1/4 cup.
2. Sprinkle ¼ cup on top of your favorite yogurt. You can find a list of The Real Food Dietitians top 5 yogurt brands here.
3. Sprinkle ¼ cup on top of chia pudding for a dairy-free breakfast, snack or dessert.
4. Sprinkle just a bit on top of your favorite salad for a little crunch.
5. Package it and give it as a gift for someone else to enjoy.
Ingredient shout out: Pumpkin Seeds, a nutrient powerhouse.
Very good source of magnesium, manganese, copper & zinc.
Magnesium, promotes healthy blood pressure & heart as well as proper digestion.
Zinc enhances immunity.
Plant-based source of omega-3's healthy fats and protein.
Rich source of tryptophan which is helpful for obtaining restful sleep.
Rich in antioxidants and anti-inflammatory properties.
This 10-ingredient Granola recipe is simple and quick to make. Give it a try!
You are in for a treat with this recipe! A grain-free granola that is delicious on its own or served on top of plain yogurt and a few berries! This recipe serves 12-14.
Chewy Honey Coconut Granola
Serves 12-14
INGREDIENTS:
1 cup raw almonds
1 cup raw cashews
1/3 cup raw pumpkin seeds
1/3 cup raw sunflower seeds
1/4 cup unsweetened coconut flakes
1/4 cup unrefined coconut oil
1/4 cup raw honey (may substitute 100% maple syrup)
1 teaspoon vanilla extract
Pinch of sea salt
2 teaspoons ground cinnamon
1/2 cup dried cranberries or cherries
DIRECTIONS:
1. Preheat oven to 275ºF.
2. In a food processor or blender, add almonds, cashews, and coconut flakes. Chop into small pieces (do not over blend).
3. Heat coconut oil, honey, cinnamon, and salt over medium-high heat in a large saucepan for 3 to 5 minutes.
4. Remove from heat, stir in vanilla, then add seeds, nuts, and coconut flakes. Stir to coat.
5. Spread granola evenly onto a baking sheet lined with parchment paper. Bake for 22 – 25 minutes until lightly browned.
6. Remove from oven and add cranberries (may need to press into mixture).  Allow to cool for 20 minutes or until hardened.
7. Break apart granola.
8. Store in airtight container or mason jar up to 2 weeks.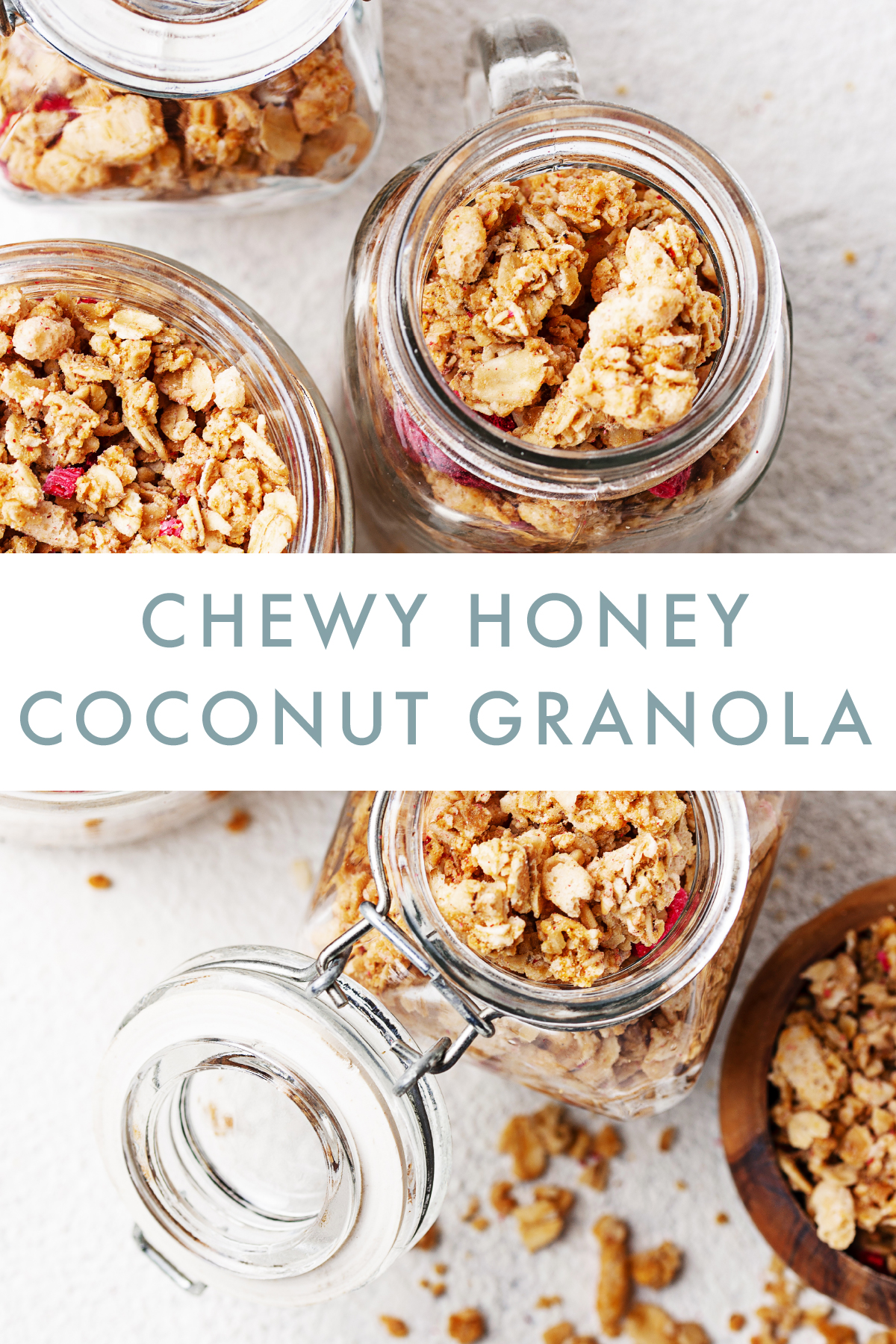 Stacie Hassing is a Registered Dietitian and the co-founder of

The Real Food Dietitians

website and blog. She's a creator of healthy and simple recipes, a lover of nature and she's on a mission to inspire you to live a healthier and happier life from the inside out. Her recipes are designed to be big on taste and short on ingredients, so that you can spend less time in the kitchen and more time doing what you love. You can find more recipes as well as nutrition and lifestyle tips on the blog of the

The Real Food Dietitians

.