Do you have an aloe plant in your kitchen?
If you do then you probably know that it's a great first aid for healing cooking burns.
But did you know that this tropical plant is credited for a lot of other health benefits?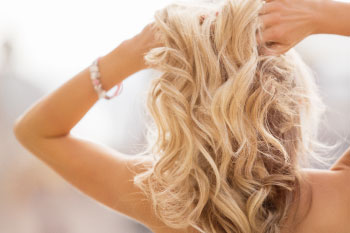 From stopping hair loss and healing acne to helping with weight loss and boosting your immune system, aloe is one of nature's most perfect substances!
The Aloe Vera Plant
Even if you don't have your own aloe plant, you've no doubt seen them. They have tall, ash green leaves that grow straight up and that are shaped like blades.
These leaves have spiky edges and grow to about two feet tall. The leaves are fleshy, and when you cut them open you'll find a gooey clear gel.
It's this gel that contains all of the plant's health benefits. That gel is chock full of nutrients.
It's mostly water, but also contains a protein that holds 18 amino acids found in the body. It also contains vitamins A, B, and E and a carbohydrate called "acemannan."
Acemannan is the real powerhouse of the aloe vera plant that both provides nourishment and strips out toxins.
Tweet
It is for this reason that aloe vera has been highly prized as a natural healer for centuries.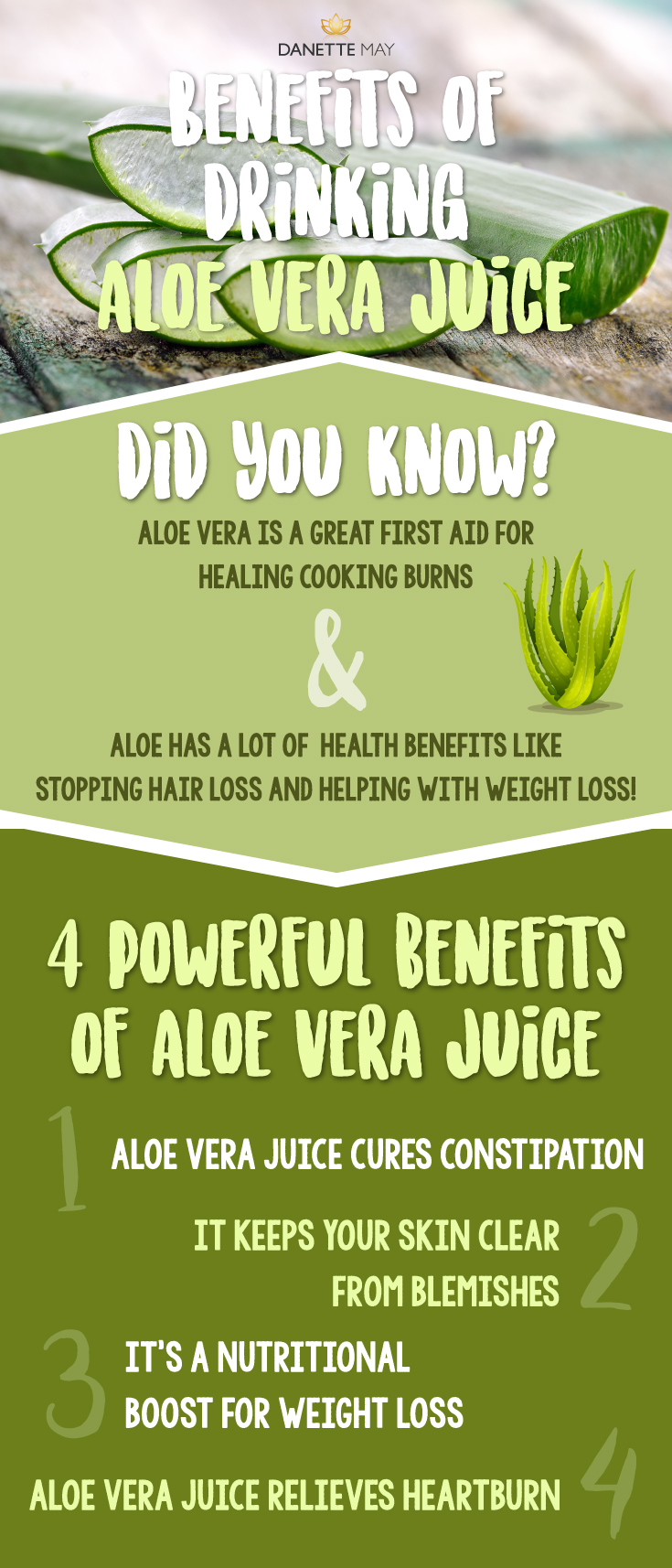 4 Powerful Benefits of Aloe Vera Juice
Though the gel is what most people use to heal burns, cuts, and skin conditions, aloe vera juice is also made using the outer leaf.
The entire leaf is crushed and ground up, the purified and filtered to make a juice that can then be drunk plain or mixed with other ingredients.
There are a load of benefits to drinking and using aloe vera juice, including:
1. Cures Constipation
Aloe is a great way to keep hydrated. It keeps your liver healthy and keeps fluid levels in your intestines high. The more water that is in your intestines, the more they are stimulated, and you can pass stool easily.
2. Clears Skin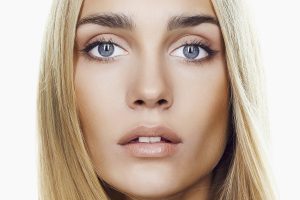 Though aloe gel is a good topical treatment for pimples, drinking the juice is good for your skin too. It has lots of antioxidants and vitamins that can help reduce fine lines and wrinkles.
I'm a huge fan of using all-natural ingredients for beautifying skin! Here's a recipe for my favorite anti-aging chocolate mousse face mask.
3. Nutritional boost for Weight Loss
In addition to protein and vitamins, aloe vera juice contains important minerals that your body needs. These include:
calcium
copper
magnesium
potassium
When you include aloe vera juice in your diet, it boosts your immune system and gives you an extra source of protein to keep your muscles strong and your energy levels high.
It's also said to speed up metabolism, which helps you burn extra fat and calories.
4. Heartburn Relief
If you struggle with indigestion, drinking aloe vera juice can help. It's been shown to heal gastric ulcers and control the amount of acid that your stomach releases.
So Where Do I Find Aloe Vera Juice?
You can buy aloe vera juice at most stores these days. You can also buy your own aloe vera leaves in stores where Latin produce is sold and make your own.
Just cut a leave into 4" sections and slice off the spikes. Then cut off the green skin, leaving as much of the clear flesh as you can. Lay the pieces flat and remove the clear flesh, making sure you get rid of all the green parts. Rinse the flesh to get rid of extra gel, then drain.
You can dice the flesh up and then use it to make the aloe lemonade below.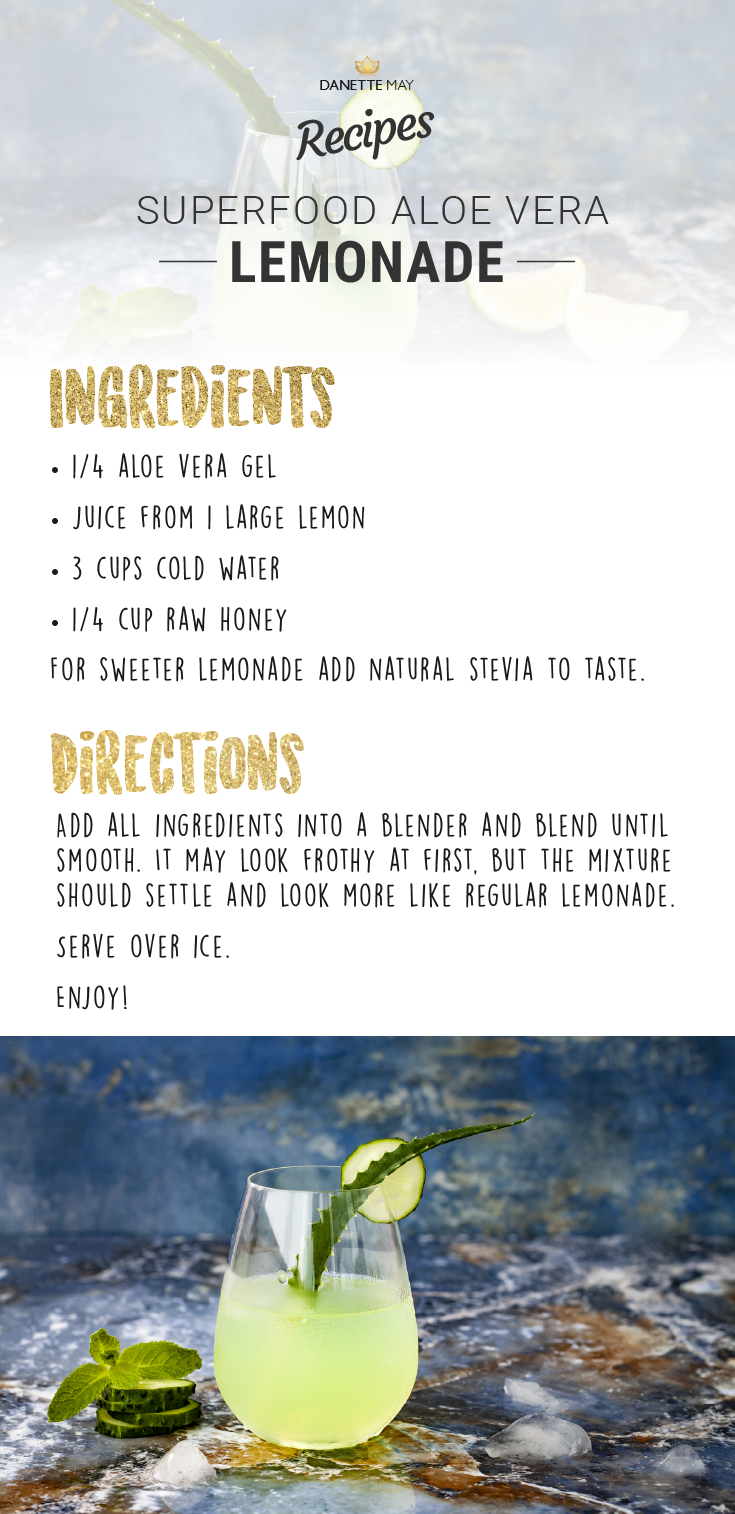 Yours in health and happiness,
Danette
P.S. Please help me spread the word about aloe vera by sharing this and I always love to hear from you in the comments below too! Have you tried drinking aloe vera juice yet?