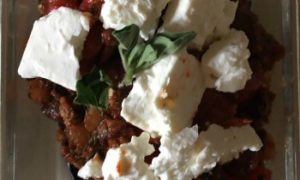 First, I want to thank all of my wonderful members (I call them my tribe sisters) who submitted their yummy creations for my Healthy Holiday Recipe Challenge!
There were hundreds of deliciously healthy recipes to try, and I had so much fun trying them. This recipe was a real stand out and with one bite you'll see why it was named the winning recipe.
Congrats and many thanks to member Cherie Lambaise of Fort Lee, New Jersey for sharing this winning recipe. Wait until you TASTE this!!
INGREDIENTS
1 lb Lean ground chicken, turkey or beef
(I used grass fed beef)
1 onion chopped
1/4 teaspoon of sea salt
1/4 teaspoon black pepper
3 large plum tomatoes
1/4 cup kalamata olives chopped
One small can of tomato paste
3 tbs cooking sherry wine
1/2 cup of dill
2 tbs chopped oregano
2 large eggplants
Coconut oil spray
1 oz feta cheese
Note* Vegetarian option would add 1 cup chickpeas instead of meat and omit the tomato paste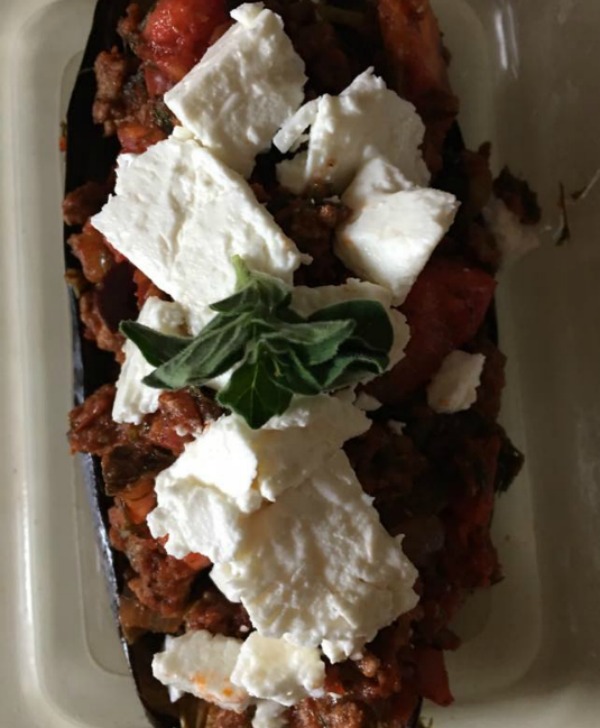 DIRECTIONS
First, cut eggplant in half then roast until brown and cooked all the way through.  (About half an hour to 40 minutes at 375 degrees F)
Meanwhile, spray non-stick frying pan with coconut oil (one quick spray) and add chopped onion.
Add meat and cook through. Add tomato paste and mix until meat has a nice color. Add dill, oregano, tomatoes, and wine.
When eggplant is done roasting, scoop out inside of eggplant and add to the meat folding it in. Salt and pepper to taste.
Then scoop filling back into eggplant and top with feta cheese.
Garnish with fresh oregano and enjoy! 🙂
Yours in health,
Danette
P.S. I hope you'll share this delicious recipe with your friends and don't forget to leave me a comment below!