Today I'm going to share with you, my favorite meal. I honestly crave this meal because it's so good! I can see this is the most delicious salad you'll ever make.
Easy Spring Salad
2 or 3 cups of any greens (like kale or spinach)
1/4 cup chopped cilantro
1/4 cup chopped mint
1/2 cup chopped red peppers
1 cup fresh berries (like strawberries or raspberries)
1/4 cup of sunflower seeds raw and unsalted
1/4 cup raw, unsalted walnuts
2 Tbsp. chia seeds
1/2 of an avocado, sliced
For the Dressing:
juice of half a lemon
a drizzle of balsamic vinegar (right before serving)
And speaking of Spring, I've been loving my YoubySkechers shoes this season. They really put a spring in my step and I just love how easy they are to slip on so I have more time to smell the Sping daisies with my kids!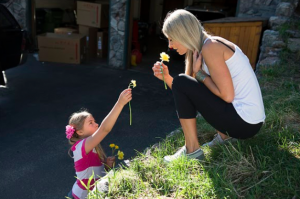 Yours in health and happiness,
Danette
P.S. Please share this yummy recipe with your friends and I always love to hear from you in the comments below.