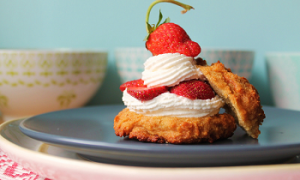 Isn't the smell of fresh strawberries intoxicating?!
I know strawberry season is in full swing in many parts of the US and that means one thing will be tempting a lot of you this month….strawberry shortcake.
Strawberries are a very sugary fruit and adding a heavy, sugared short cake doesn't do the waistline any favors. It's called shortcake because it's traditionally made with shortening but this recipe uses a healthier fat and eliminates white sugar. It's gluten free too!
This is a real treat and a great tasting version of the classic. You'll want to enjoy this one in moderation if you are on a weight loss journey. It's a perfect clean dessert to celebrate a special occasion!
INGREDIENTS
1 cup almond flour or almond meal
2 tablespoons coconut flour
1/2 teaspoon baking soda
1/8 teaspoon Himalyan sea salt
2 eggs, room temperature
1/4 cup melted coconut oil or grass fed butter
3 tablespoons honey
1/2 teaspoon almond OR vanilla extract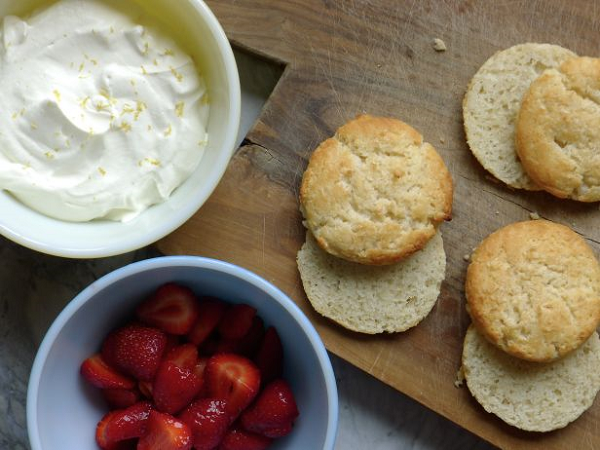 Topping Ideas:
Sliced strawberries
Blueberries (Any berries will do great)
Greek Yogurt
Slivered Almonds
Chopped Walnuts
Shredded Coconut
DIRECTIONS
Preheat the oven to 325 degrees F.
Combine the almond and coconut flours, baking soda, and salt in a medium bowl. Whisk together the remaining ingredients in a small bowl, and add to the flour mixture. Combine well.
Scoop the batter onto a parchment paper-lined baking sheet with an ice cream scoop leaving room in between shortcakes. You should get about 8.
Bake for 11-14 minutes or until golden brown. (Check frequently to avoid over browning)
Serve warm or at room temperature with your favorite toppings.
Wrap leftovers and store refrigerated for up to a week. The shortcakes freeze well too.
For even more health benefits, find a local strawberry picking farm and harvest your own ingredients. It's a great activity for toning your legs and glutes.
Yours in Health,
Danette
P.S. Please share this with your strawberry loving friends and leave me a comment below. Will you try this recipe?