Have you heard of Buddha Bowls yet?
Some call them Nourish Bowls but no mater we what we call these colorful super food bowls they are always a crowd pleaser.
You can use any super colorful and nutrient dense foods you have on hand. As a general rule you want to include a green, a raw or roasted veggie, a cooked grain, lean protein, something with some crunch and a tasty dressing.
I love changing it up and trying new things and it's always fun to ask my family what they want me to put in the Buddha Bowl. Besides, I'll never get tired of hearing my kids ask for Brusells Sprouts!
You will find few dishes that are as this gorgeous on the table and beautifully nourishing to your body.
I like to  make the dressing the day before to let the flavors really blend. I usually chop the veggies and prep the black rice (or quinoa) ahead of time too just to make this a quicker put together later. This recipe serves 4.
INGREDIENTS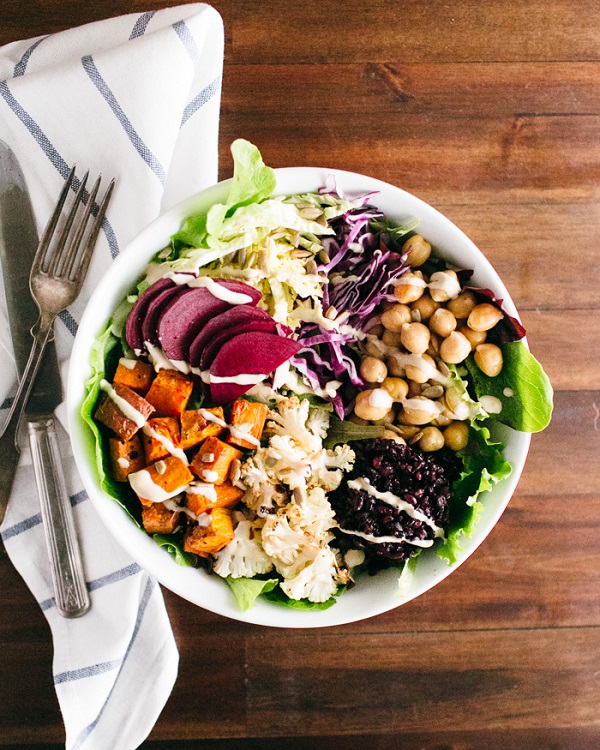 1½ pounds sweet potatoes (2 medium)
1 head cauliflower
3 tablespoons extra virgil olive oil
1 teaspoon sea salt
Fresh ground pepper
1 black rice (or quinoa) uncooked
15-ounce can chickpeas (1½ cups cooked)
1 beet
¼ head red cabbage
12 cups salad greens
? cup sunflower seeds
**Lemon Tahini Dressing
½ cup tahini
2 large lemons (about ½ cup)
¼ cup water
1 tablespoon olive oil
½ teaspoon sea salt
DIRECTIONS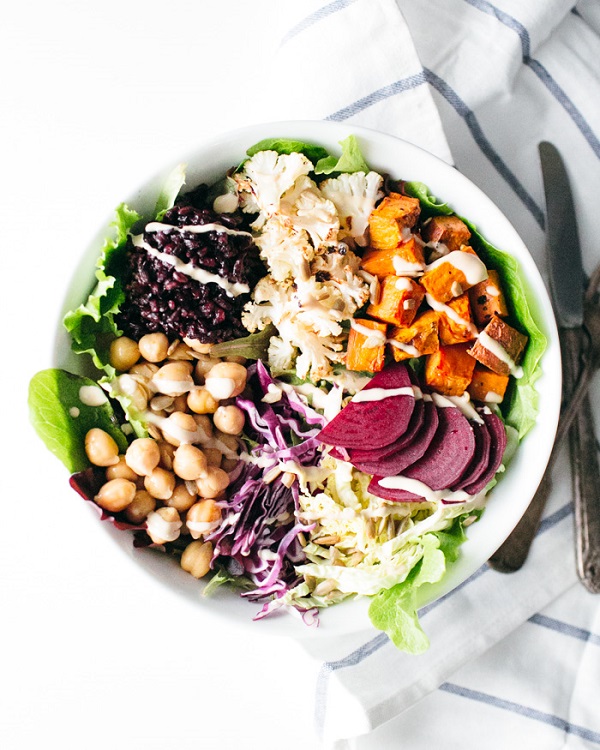 Preheat oven to 450°F.
Dice the sweet potatoes; place them in a bowl and mix with 1½ tablespoons olive oil and ½ teaspoon sea salt. Line a baking sheet with parchment paper and pour the sweet potatoes onto half of the sheet.
Cut the cauliflower into florets; place them in the same bowl and mix with 1½ tablespoons olive oil and ½ teaspoon sea salt.
Pour them onto the other half of the baking sheet. Add fresh ground pepper and roast until tender, about 30 minutes.
Meanwhile, prepare the black rice according to the package instructions.
Drain and rinse the chickpeas; mix them with a drizzle of olive oil and a few pinches sea salt.
Peel and thinly slice the beet. Thinly slice the red cabbage.
Make the dressing (below).
To serve, place the salad greens in a bowl. Arrange small piles of each component. Drizzle with dressing and top with sunflower seeds.
***For The Dressing
In a canning jar or small bowl, combine ½ cup tahini, the juice of 2 large lemons (1/2 cup), ¼ cup water, 1 tablespoon olive oil, and ½ teaspoon sea salt. Cover and vigorously shake the canning jar, or whisk together the ingredients in a bowl.
Reserve extra dressing for later use; it saves for about 1 month in the refrigerator. Bring the dressing to room temperature before serving (it becomes thick when chilled).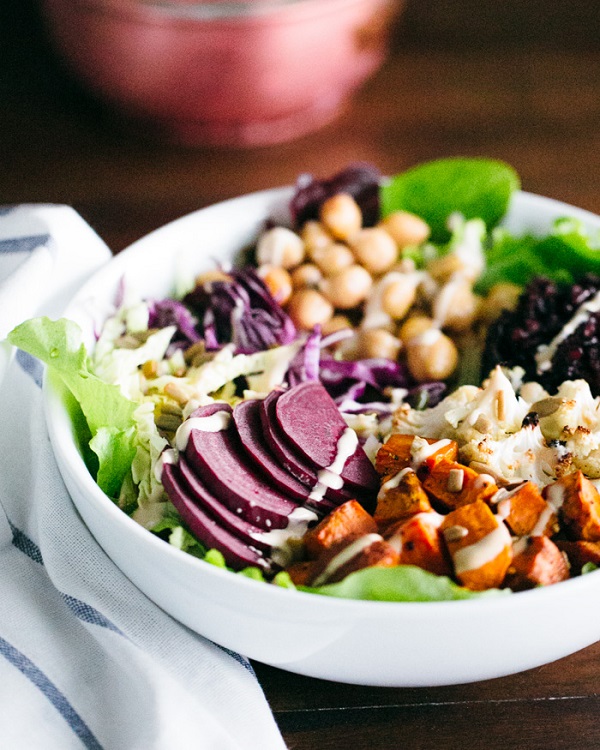 There will be more than enough dressing for 4 salads so save the leftovers! Why not consider adding Buddha Bowl night at your house too?
Yours in Health,
Danette
P.S. Please share this with your friends and I welcome your comments below!