High end mattresses are heralded to do wonders for your body. But did you ever think that this could just be a touch of hype?
One thing that's true is you want to get the best quality sleep you can every night.
Sleep is the time your body uses to release hormones, which are favorable for
muscle recovery
weight management and
brain function.
If you toss and turn, wake up frequently or have trouble falling asleep, all aspects of your day will suffer.
This means you may experience
sluggishness
weight gain and
brain fog.
It stands to reason that a high end mattress can save the day, or night, but there is more to the story.
Just because it's high end doesn't mean it is going to resonate with YOUR body.
You need to do some field tests before buying it.
Mattress stores are cooperative when it comes to testing. Take advantage of this.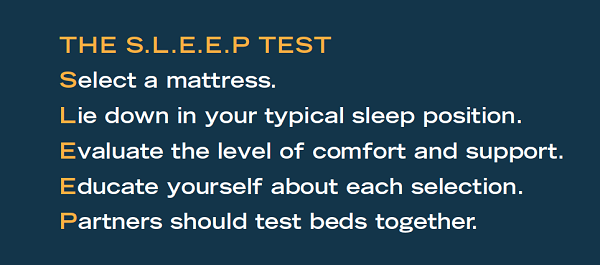 Think about how frustrating it would be to buy a mattress just because you heard it was high end. Then you spend your first night in it, tossing and turning, and starting your next day unrested.
This can lead to an ongoing thing, which can add stress your body. This will make you vulnerable to illness and yes, weight gain.
High end mattresses might look good and be touted as comfortable and good for your back, but that can be all hype.
The only way you can truly tell is if you try it out first.
Spend a good 15 minutes lying on it and see how your body responds. If it feels good, go with it. If not, let someone else have it.
You also have toxins to take into consideration.
High end beds are designed to make your sleep experience better, and they are geared specifically toward comfort. The down side is they're also manufactured with chemicals that make them resistant to fire and bugs.
This may sound like good news, but it's really bad news in disguise. 
These chemicals come with side effects, such as thyroid problems.
If your thyroid is not firing on all cylinders, you can experience
thinning hair
mood swings
energy deficiency and
a slow metabolism.
If you are fatigued and have a slow metabolism, you run the risk of gaining weight.
The solution?  Look for a bed that's free of contaminants and also feels comfortable when you lie on it.
This way all the guesswork will be taken out of the equation.
In other words, focus all of your attention on quality. And a quality mattress doesn't automatically mean it is high end.
In fact, you might be able to find a cheaper type that trumps the high end model. Use your gut instant and judgment as your guide.
With a restful mattress , you can sleep in peace and not worry about  sluggishness, weight gain or side effects.
I have to tell you, after trying every high-end, non-toxic mattress that has me sleeping like a baby every night, I found one that I absolutely LOVE…
First, if you're concerned that you aren't getting enough quality sleep, or about the safety of the materials inside your mattress, this must-see video will help you avoid health risks and sleep safe and sound.
After watching that video, you'll want to test out the IntelliBED for yourself. Right now you can get a 10% discount  + 2 intelliPILLOW's and a Set of Bamboo Sheets (value up to $500).
Just use promo code DanetteMay10 when you call 877-400-IBED to get your 10% discount and your $500 promos.
Click here to grab the 10% discount and $500 bonuses
(10% + PROMO Items, Only valid on Queen or larger, not valid on standard line of mattresses)
By the way, after sleeping on our IntelliBED for the last six months, my husband and I will NEVER sleep on another mattress. Period. My husband's lower back issues went away after just a few days after sleeping on our new mattress, we both wake up feeling refreshed, and we have tons of energy in the morning now.
Yours in Health,
Danette
P.S. Please share this with your friends and I welcome your comments below.