Sip on this rich and creamy, orange-scented hot cocoa for an anti-inflammatory drink that curbs a chocolate craving!
This hot cocoa recipe is infused with orange zest for real citrus flavor that'll warm you up from the inside out. So skip the barista and make this delightful cocoa blend right in your own kitchen!
Instead of traditional milk, canned coconut cream is used to create a silky rich texture that is oh-so-satisfying to sip. Canned coconut cream is thicker than the kind you'll find in a carton because the fat portion is included, making for a thicker result. Be sure to use organic coconut milk whenever possible.
This cocoa is better than any hot chocolate you'll find at Starbucks because it uses antioxidant-rich cacao powder, meaning all of its vital cell-protecting benefits are intact. Raw cacao contains mood-boosting flavonoids that help stave off brain-related diseases like Alzheimer's. (1) Look for raw cacao powder without any added sweetener in health food stores.
This hot chocolate is also much lower in sugar than anything you'll get at the drive-thru. Just a tablespoon of pure, rich maple syrup is used to sweeten, but you can also use raw honey if you prefer. Just a bit of virgin coconut oil adds its own coconutty sweetness to the hot cocoa along with a dose of heart-healthy fatty acids.
Finally, ground turmeric increases the immune-boosting benefits of the cocoa with free-radical fighting curcumin. This antioxidant helps ward off diseases like cancer and atherosclerosis (hardening of the arteries). Black pepper increases the absorption of turmeric in the body seven- to eight-fold, so make sure to include a pinch. (2)
Tip: For more recipe ideas on how to drink turmeric, click here!
Get started by combining ingredients in a medium saucepan over medium-low heat for five minutes. Reduce heat to low and continue to heat for five more minutes to allow the orange zest to infuse its flavor into the coconut milk. Strain the cocoa through a fine mesh strainer and pour into two mugs. Enjoy it while it's hot.
Orange Hot Chocolate
Prep time- 2 minutes
Cook time- 10 minutes
Total time- 12 minutes
Serves- 2
Tools
Medium saucepan
Fine mesh strainer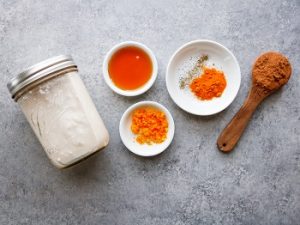 Ingredients
2 cups organic canned unsweetened coconut milk, at room temperature
1 T raw cacao powder or Cacao Bliss
1 T pure maple syrup
2 t organic orange zest
1 t virgin coconut oil
1 t organic ground turmeric
Pinch of black pepper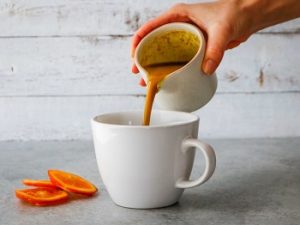 Directions
Combine all ingredients in a medium saucepan over medium-low heat for five minutes.
Reduce heat to low and continue to heat for five minutes more.
Strain the cocoa through a strainer and pour into two mugs. Enjoy!
Shout out to Jannafer Ashley from PaleoHacks for sharing this yummy recipe!
Yours in health and happiness,
Danette
P.S. Share this with your hot chocolate loving friends and I love reading your comments so post up below to let me know if you tried it.