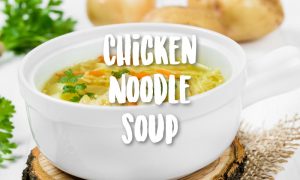 Perhaps the shining star of ALL soup recipes is the all healing Chicken Noodle Soup! It's a go-to recipe when you're feeling under the weather or when you just want something yummy to warm you up on a cold day.
This recipe will take the healing powers of your Chicken Noodle Soup to the next level and I love that it can be cooking in the crockpot while I tend to other things.

Yours in Health,
Danette
P.S. Please share this yummy recipe with your friends and I'd love to hear from you in the comments below.