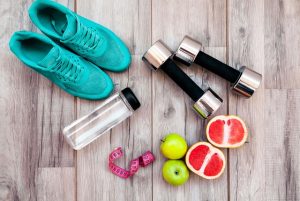 Toss that sarong.
I've put together a bikini workout program that flattens your tummy, shapes your shoulders, sculpts your derriere, fights arm jiggle, and more. More than that, it blasts fat and builds muscle.
The best part?
It only takes 10 minutes of your time, and you can do it anywhere, whether at the gym or at home.
This bikini body exercise plan will help you slip on a two-piece swimsuit with confidence. Each exercise targets multiple muscle groups, so you train smarter — not longer. With this workout, I've helped many women get summer-ready, helping them achieve their most beautiful beach physique ever.
10-Minute Workout Routine
The bikini fitness workout plan includes Karate Kicks (50 seconds each leg), Hop In-Out (25 seconds), Triceps Push-Ups (50 seconds), and Reach Out Squats (25 seconds each leg). It's a simple, easy-to-follow routine, and it includes exercise modifications if you're not ready for the intense moves yet.
All you need to do is to repeat the whole thing until you reach 10 minutes, and do it up to three times a week to achieve the best results. But make sure to warm up before you start.
With this workout, you can save yourself countless, boring hours on cardio machines.
Recipes to Achieve the Bikini Body
As a seasoned fitness model, I know that shaping the body for a bikini doesn't only involve a proper workout plan. It also includes a fork, with which to eat good food, of course. Working out is only half the battle in achieving a bikini body.
I wrote the e-book "Bikini Body Recipes" to help you drop fat without losing muscle, and help you reduce calories without sacrificing protein. The food you eat will be nutritious and clean to help you do the 10-minute workout, jump-start your metabolism, and turn your body into a fat burning machine. Or maybe encourage you to join and win a bikini body competition.
The program has been proven to work, and they're quick and easy to make. In fact, they take only 10 minutes — as quick as the Danette May bikini body workout plan.
If the thought of wearing a bikini makes you want to dive into your sweater collection, start changing your routine. Let me help you.