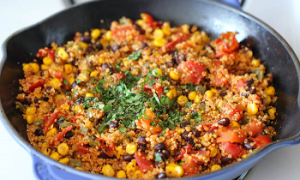 I like to keep it simple and clean up from dinner is no exception!
If you're an avid reader of my blog you will notice that most of my recipes are super quick and that I like to keep the cookware to a minimum.
I don't like to skimp of taste either and my Tangy Mexican Quinoa Skillet recipe is bursting with delightful flavor.
Pile everything in one pan and voila, dinner is served – even the quinoa is cooked right in the pan!
INGREDIENTS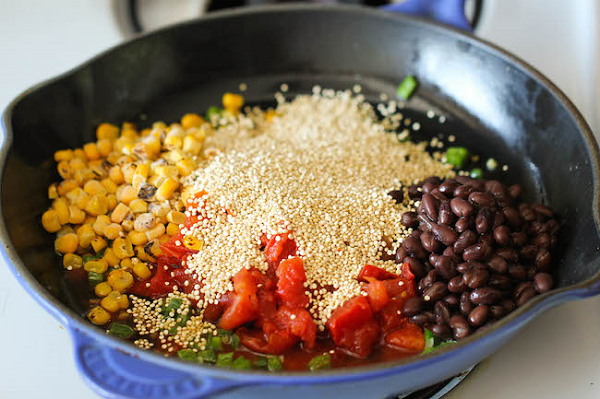 Makes 4 Servings
1 tablespoon olive oil
2 cloves garlic, minced
1 jalapenos, minced
1 cup quinoa
1 cup vegetable broth
1 (15-ounce) can black beans, drained and rinsed
1 (14.5 oz) can fire-roasted diced tomatoes
1 cup corn kernels
1 teaspoon chili powder
1/2 teaspoon cumin
Kosher salt and freshly ground black pepper, to taste
1 avocado, halved, seeded, peeled and diced
Juice of 1 lime
2 tablespoons chopped fresh cilantro leaves
INSTRUCTIONS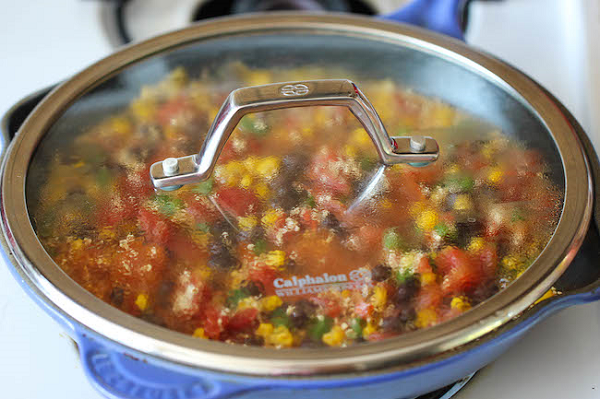 Heat olive oil in a large skillet over medium high heat.
Add garlic and jalapeno, and cook, stirring frequently, until fragrant, about 1 minute.
Stir in quinoa, vegetable broth, beans, tomatoes, corn, chili powder and cumin; season with salt and pepper, to taste.
Bring to a boil; cover, reduce heat and simmer until quinoa is cooked through, about 20 minutes.
Stir in avocado, lime juice and cilantro.
Serve immediately.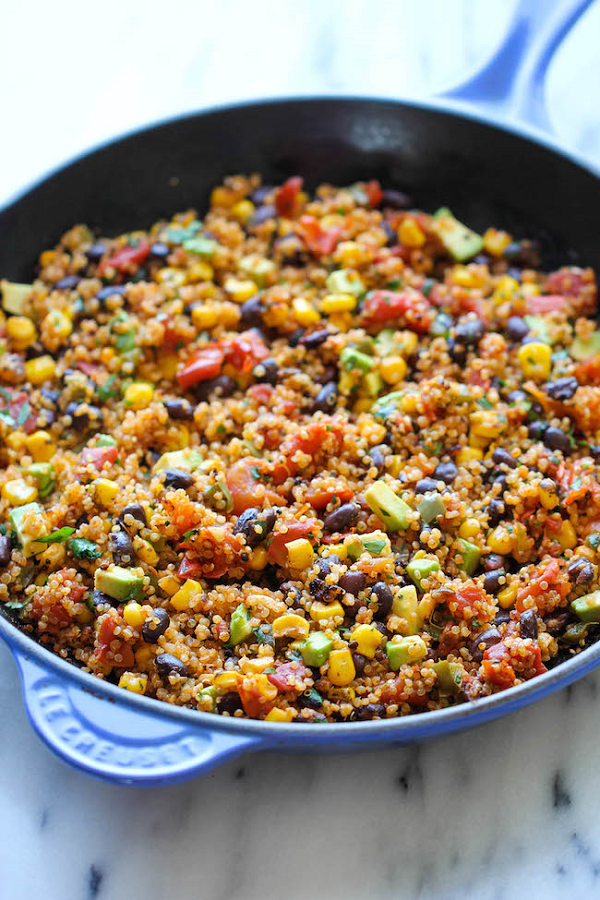 This recipe is wonderfully light, healthy and nutritious. And it's as easy to make as it is to eat!
Yours in Health,
Danette