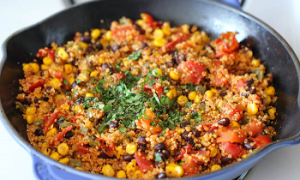 I like to keep it simple and clean up from dinner is no exception!
If you're an avid reader of my blog you will notice that most of my recipes are super quick and that I like to keep the cookware to a minimum.
I don't like to skimp of taste either and my Tangy Mexican Quinoa Skillet recipe is bursting with delightful flavor.
Pile everything in one pan and voila, dinner is served – even the quinoa is cooked right in the pan!
This recipe is wonderfully light, healthy and nutritious. And it's as easy to make as it is to eat!
Yours in Health,
Danette