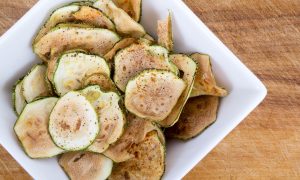 Ever get a taste for something crunchy and salty? Believe me, I get those cravings too!
I have just the healthy alternative so you'll never be tempted to reach for a bag of greasy potato chips again! These are super quick to prep and uses the oven as a dehydrator like we did with the strawberries last month.
Plus, what else are you going to do with ALL of those zucchinis from your garden this year?

Zucchinis are so flavorful and contains significant quantities of potassium, folate, and vitamin A! Pop these in the oven on Friday night and you have the perfect crunch craving buster to enjoy on movie night!
Yours in health,
Danette
P.S. If you liked this recipe, please share it with your friends and I always enjoy reading your comments below.