Diet Books and Healthy Recipes
If you struggle with food, battle with your weight, and dislike your body, diet and nutrition books will become your lifeline. You have the potential to have a lot of energy, look and feel better, and make your partner look at you and think, "Wow." It's not that hard to get there, and these books on nutrition and healthy eating I've written can be such great tools to help you on your journey.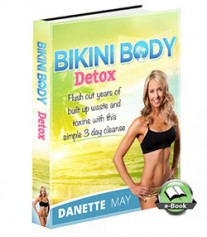 Bikini Body Detox
Flush away harmful toxins and "trapped" fat, and boost your energy with my revolutionary 3-Day Bikini Body Detox
Buy E-Book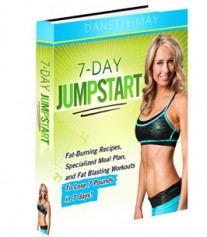 7 Day Jump Start
How to lose 7 pounds in 7 days. Jumpstart your metabolism, slow aging and melt fat away. Get the Workouts, Fat-Burning Recipes, and Meal Plans You Need To Lose 7 Pounds in 7 Days
Buy E-book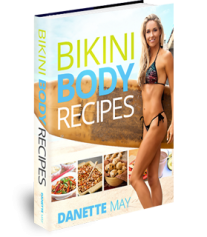 Bikini Body Recipes
Over 150 delicious FAT-Burning Recipes made with only 5 ingredients. Not only do these recipes taste amazing, but they take only 10 minutes or less to prepare!
Buy E-Book
Losing weight is tough, and sometimes terribly frustrating. But it doesn't have to be. Let the transformative power of books on diet and exercise help you.
But really, the term "diet book" will bring you nearly hundreds of thousands of choices on Amazon. Some will tell you to avoid sugar, while others will tell you to eat more fat. A ridiculous few will urge to follow the "tapping method" (as in tapping your forehead) to help you slim down.
The titles may be different, but their effect is the same: you change your habits, only to return to the same old ones right off the bat.
What you need is not just another diet book, but something that offers in-depth knowledge. And that's where this list comes in.
The "Bikini Body Detox," "7 Day Jump Start," and "Bikini Body Recipes," on the other hand, will guide you in the long run. These are the books you'll keep on your nightstand, so you'll be reminded of all the little things you can do that add up to big changes.
Simple and Easy-to-Follow Self-Help Book
My self-help book for weight loss will give you simple strategies. And when you follow them, you'll transform your body without even noticing. It becomes a habit and you'll look back at the time when you had all this weight.
The book will urge you to take action. To eat better. To eat whole, real foods and avoid the things you know to avoid. To move more and do some aerobic and strength training. In fact, the book is doable for nearly any lifestyle, and emphasize on eating water-rich and nutrient-dense foods that help with weight loss and digestion.
The ideas are well organized that it won't be too hard to change your lifestyle.
Book on Diet and Exercise That's Focused on the Mind
My book on diet and exercise will not only focus on exercise and eating healthier, but also on your mindset, your habits, and your motivation. The book will teach you to fix one habit after another, leading to true progress. And this is far more powerful than the latest fad diet or workout craze.
Recipe Book That Aims for a Lifestyle Change
The "Bikini Body Recipes" can help you lose weight by eating right. It's not a short-term diet that makes you lose a few pounds only to gain it all back — and more. The program is more of a lifestyle change rather than a temporary diet.
More than losing weight, the healthy diet recipes for weight loss I included will give you increased energy and strength, better cognitive function, and less risk of sore and stiff muscles after working out.
One-Time Purchase
There are many trendy apps and celebrity diets, but most of them can be expensive and hard to follow. My e-books, on the other hand, are cheap and only require a one-time payment. Plus, you can store them in your mobile phone, tablet, laptop, or PC, making the information always accessible.
It won't be hard to get there. All you need to do is choose a book that works on your lifestyle and weight loss goal.