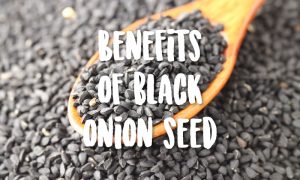 Have you heard of Black Onion Seeds? It's natural to think that it would come from an onion plant, but they're the seeds of the black caraway fruit or Nigella. The plant grows in Asia.
The seeds are also called "kalonji". It's used as a spice in the Middle East, and in Indian food for its unique flavor. Its taste has been described as a combination of onion, oregano, and black pepper.
Black Onion Seeds are used in vegetable dishes and in many flatbreads. You may also have seen it in Armenian string cheese.
While the whole seeds are used as a flavoring, the plant is used to make an oil that is rich in conjugated linoleic acid (CLA) and other phytochemicals.
The seeds and the oil have both been used in traditional medicine for years because they offer so many health benefits.
8 Ways Black Onion Seeds Spice Up Your Life
1. Skin Health 
Black Onion Seeds are great for your skin. They're loaded with vitamins and antioxidants. They boost your immune system and fight back against drying skin conditions like eczema and psoriasis.
2. Cancer-Fighting
The Black Onion Seeds and the plant's oil are high in CLA. CLA has been shown to have cancer-fighting properties. Eating them has been shown to help those who have colon cancer.
The thymoquinone in the seeds has also been shown to cause cell death in breast cancer cells. This helps slow and stop tumor growth.
3. Lowers Blood Pressure and Cholesterol
Black Onion Seeds are high in dietary fiber. They help lower bad cholesterol and lower blood pressure at the same time.
4. Hair Health 
Black Onion Seeds are a powerful anti-fungal agent. Eating them and using the oil on the scalp will help to nourish your hair follicles and fight hair loss.
Some people even think black onion seed oil will stop your hair from turning grey!
Tweet
5. Powerful Brain Protection
Black Onion Seeds are high in "thymoquinone," a phytochemical shown to protect brain tissue. This has a couple of very specific benefits.
If you're exposed to any type of radiation, they offer protection of brain tissue against the damaging rays.
They also are good for people who have Parkinson's disease, as they help protect neurons from the nerve disorder's effects. It also has been shown to cause cell death in brain cancer cells. Whoah! That's one powerful seed!
6. Weight Loss Booster 
Black Onion Seeds are high in fiber. They help to keep you feeling full so you're less likely to snack. They also have been shown to boost your metabolism!
7. Heart Health
In addition to lowering bad cholesterol levels, the special type of fatty acids found in Black Onion Seeds reduce triglycerides in the blood. This helps to keep your heart healthy.
8. Blood Sugar Levels
Black Onion Seeds lower fasting glucose. They also reduce insulin resistance. They make a great addition to your diet if you are at risk for diabetes, or have been diagnosed with the condition.
If you want to add black onion seeds to your diet, try toasting them lightly and grinding them. That's the best way to use them as a spice.
Yours in health and happiness,
Danette
P.S. Please help me spread the word about black onion seeds by sharing this with your friends. I welcome your comments below too! Have you heard of the black onion seed before?